Infrastructure, Urban Design and Landscape
This category includes infrastructure, urban design and landscape projects
that have been completed since last May
. To find buildings from previous years please use the archive and search functions on the menu to the right.
Browse Buildings:
Buildings 1-1 out of 1 displayed.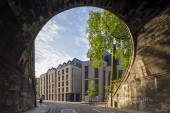 King's Stables Road is a leading example of a mixed-use development that successfully integrates a true mix of uses into a sensitive, historic city centre. The comprehensive redevelopment of the former Council Cleaning and Street...
Back to Scotland's New Buildings