Infrastructure, Urban Design and Landscape
This category includes infrastructure, urban design and landscape projects
that have been completed since last May
. To find buildings from previous years please use the archive and search functions on the menu to the right.
Browse Buildings:
Buildings 1-2 out of 2 displayed.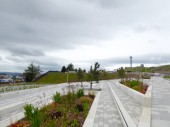 Dundas Hill (also known as 100 Acre Hill) is one of the highest drumlins that give Glasgow its distinctive topography and urban form. The innovative regeneration of Dundas Hill takes a long term, sustainable approach to the future transformation...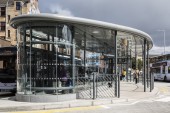 SPT's Redevelopment of Partick Bus Station creates an attractive "forecourt" to the existing Rail/Subway station completing a transport hub that integrates bus, rail, subway with national cycle and local footpath networks...
Back to Scotland's New Buildings