Get your copy of Architecture Scotland Annual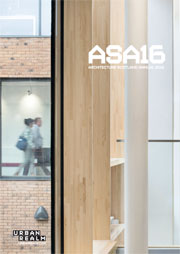 Just shy of 100 buildings are crammed within the 2016 edition of Urban Realm's Architecture Scotland Annual, the only publication which puts Scotland's best buildings into print year after year.
Our tenth anniversary edition coincides with a disruptive year which began with the shock death of Gareth Hoskins and ended with the fallout of Brexit but despite the best efforts of a turbulent world good work continues to be delivered, not least in Hoskins Architects own Eastwood Health & Care Centre, an understated hat trick in brick.
It may have narrowly missed out on the RIBA Stirling Prize to Caruso St John's Newport Street Gallery but the City of Glasgow College Riverside Campus by Michael Laird Architects and Reiach & Hall makes for an alluring civic set piece on a revitalised waterfront. It makes a stunning showcase.
Fill in this form to purchase the latest copy of the Architecture Scotland Annual book
Priced at £24.99.
ASA is free when you subscribe to Urban Realm magazine.
For further information telephone 0141 356 5333 or email us.
Purchase Form
* Required fields