Current Issue
The current issue of Urban Realm contains articles on: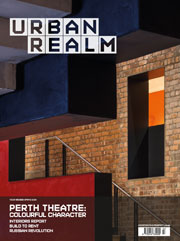 Collective Gallery – Urban Realm climbs Edinburgh's Calton Hill to view the city's highest art gallery. Product of the high ambitions of the visual artists who call it home this is one gallery that is not afraid to reach for the stars.
UR100 – Our New Year Honours list offers a snapshot of the past 12 months in architecture by detailing the practices and projects which have done most to make 2018 such a pivotal year. Only here will you find the most current snapshot of a fast-evolving industry.
Branding – Taking a break from physical construction we delve into the digital realm to see what practices can do to build their own identity and perceptions in an increasingly image conscious world. We explore the intersection of design and architecture.
RIAS – A period of chaos at the professional body has been brought to a close with the elevation of Robin Webster as president. A safe pair of hands, Webster faces the arduous task of uniting warring factions in common purpose but where is the organisation going and how quickly will it get there?
Vision 2050 – Edinburgh is a city rooted in the past, a fact which is both its strongest asset and weakest point. Architect Leslie Howson invites leading voices in the city to outline their views on what the decades ahead are likely to bring.
Bellahouston Park Hospice – One of the most coveted sites in the city now boasts one of its most innovative buildings. Urban Realm checked in to see how well the hospice responds to a sensitive setting and difficult brief.
Bayes Centre – Fifteen years after it began the University of Edinburgh has completed the final phase of its Potterrow development. Bennetts Associates have persevered with their original vision throughout this marathon journey but is the finished project worth the wait, or is it already dated?
Dundee – With the city still basking in the spotlight generated by the V&A opening Mark Chalmers pays a visit to see what ripples it is generating elsewhere. Is Kengo Kuma's vision the high watermark for the city?
Kirkcaldy – Sean Kinnear visits Kirkcaldy's Old Victoria Power Station, seat of a long running demolition battle between its owners and conservationists, to kickstart a wider discussion of the Fife towns forgotten industrial legacy.
Back to Home