Current Issue
The current issue of Urban Realm contains articles on: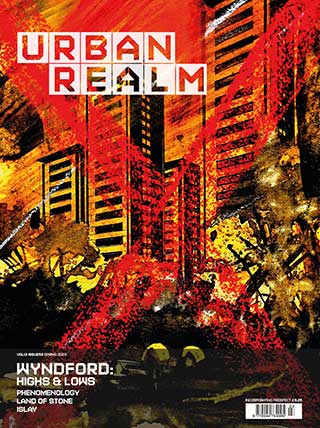 Phenomenology
Allan Murray dives into the importance of phenomenology in masterplanning, imbuing a much-abused term with a sense of experience. Surfacing the human qualities which make places worth living in over the glass and steel hulks which now hold sway over too much of our urban areas. How can we rediscover the soul of the city?
Land of Stone
We delve behind the links between architecture and nationhood in the company of Land of Stone author Roger Emmerson. Surfacing forgotten texts and past luminaries the book serves as a call to arms for today's practitioners to embrace ideas over stylistic considerations.
Wyndford
Maryhill's Wyndford estate has become an unlikely battleground, with regeneration plans proving to be explosive before a single charge has been set. We unravel the competing claims of two sides claiming the moral high ground and ask whether demolition stacks up in a carbon-conscious world.
Fire Safety
Calls are growing for the mandatory installation of sprinklers in historic buildings converted to hotel use following a series of deadly fires. We look at whether policy is likely to change or if government will pour cold water on the idea.
Image of the City
An unfashionable post-war idea pioneered by American urban planner Kevin Lynch for analysing urban areas by edges & landmarks is championed by Drew Mackie. He argues it offers contemporary insights to architects on this side of the pond.
Dormant Cinemas
Sean Kinnear returns to an old haunt and explores the shuttered ABC Cinema in Kirkcaldy. A shadow of its former self the venue is indicative of the ebb and flow of cinema as a social occasion and the broader health of the communities they serve.
Islay Distilleries
Mark Chalmers explores the roots of a whisky renaissance on Islay, sampling a few drams of Caol lla, Ardnahoe, Ardbeg and Port Ellen along the way. How is the architecture of modern distilleries shaking off 'pagoda' cliches?
Public Private Partnerships
Issues with procurement have long exercised architects but attempts at reform have been hindered by overlapping jurisdictions and political inertia. Now a campaign group is taking a real zeal for change to the seat of government to help bring about change.
Interior design
Guest contributors to our in-depth interior design feature give us the inside track on what it takes to create functional and beautiful spaces.
Back to Home