Current Issue
The current issue of Urban Realm contains articles on: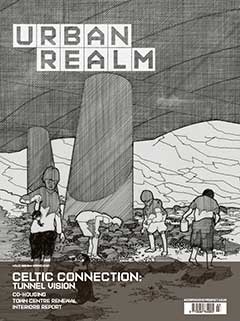 Community housing
The Phoenix Project in Inverkeithing brings the promise of community-led housing Tom Morton looks at one potential solution to the country's broken system of housing delivery. Are resident-run communities the way forward and will they ever get off the ground?
Interior Design
Urban Realm goes beyond four walls to establish how BIM is transforming the profession in a new decade. What are the key trends governing thinking in the sector?
King's Stables Road
Four years on this priority development is now complete bringing new life to a forgotten end of the Grassmarket but has it been worth the wait? We pound its wynds and pends to see how it shapes up.
Paisley
Paisley is meeting the new decade with a new blueprint for urban renewal that calls for a town centre first strategy of consolidation and culture to meet the challenges presented by a fast-changing world. Can it serve as an exemplar for struggling towns everywhere?
George Street
The need to adapt and re-use rather than raze and rebuild has driven the revitalisation of an anonymous Edinburgh office block, which sits demurely among its more stately neighbours following a nuts and bolts refresh at the hands of Reiach & Hall. Does this herald a shift toward more sustainable solutions in chastened times?
Egyptian Halls
The Egyptian Halls may occupy a special place in the heart of Glaswegians but then so too did the school of art. Urban Realm looks at efforts to save this singular example of Victorian eclecticism for future generations to enjoy.
Celtic Crossing
Amid unprecedented global tumult the temptation to build big is one constant. As uncertainty laps our own shores the talk is not of splendid isolation but enhanced connectivity. Can the dream of a British-Irish crossing survive these tempestuous times?
Mass Timber
Advances in materials science, manufacturing and engineering seem poised to intersect with a new golden age of timber but hopes for broader adoption remain hamstrung by bottlenecks in forestry, limited production capacity and risk-averse specification. We assess the prospects for an abundant wonder material, which really does grow on trees.
Charles Jencks
Renowned theorist Charles Jencks bequeaths a powerful built and written legacy following his passing in October last year. Best known for contributions to journalism, land art and Maggies Centres Jencks is a towering figure who moved mountains to inspire others. Here Mark Chalmers weaves together three strands of a stellar career.
Back to Home