Current Issue
The current issue of Urban Realm contains articles on: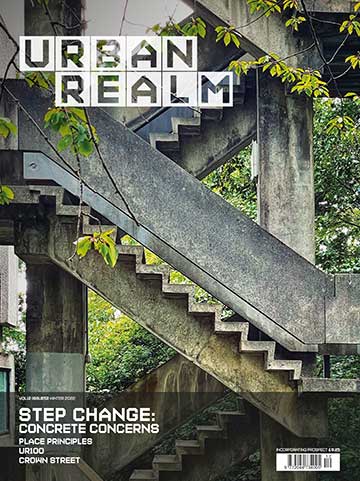 UR100
Urban Realm's New Year honours list returns with a detailed look at the top architecture practices at work today. Against a backdrop of turmoil and strife, we bring order to a profession in flux by charting those practices in the ascendant to bring you the clearest picture of how the industry is shaping up.
People Make Places
The placemaking agenda has been driven up the political agenda by recent events, throwing up novel ways of managing urban environments. We look at the work of Glasgow's Place Commission to see what forms the post-covid city could take and how this might influence our relationship to home.
Graving Docks
Govan Graving Docks has had a flowery history since falling out of use, from a seat of the Garden Festival and art installations to standing in as a backdrop for Hollywood movies. Mark Chalmers looks at how this industrial relic is destined to come full circle by returning to its shipyard roots.
North Gate
Decades in the making, a new residential block has risen to the occasion in the Gorbals. We look at how a more muscular approach to a difficult site capped off the Crown Street Regeneration Project.
Crown Street
With Glasgow's track record of large-scale urban renewal projects, it is perhaps unsurprising that so few have been embraced in more recent times. The Crown Street Regeneration Project in the Gorbals helped rekindle that lost confidence. Former director Tom Macartney explains what lessons can be learned from a grand project dating back to the 1990s, in an appeal for more haste to up the tempo of change.
Braw Concrete
A new book lays bare the inside story of how concrete, architecture's dirtiest secret, came to define a generation and a city. Over time familiar structures are being assessed in a new light but can we ever grow to love a style that many would rather forget?
Urban Design
Urban design is a core tenet of town planning which remains deeply misunderstood, even by associated professionals. Leslie Howson steps into the breach to articulate the importance of the non-accredited profession to the planning system, by espousing the economic, social and environmental benefits adherence brings.
Network Mapping
In the second of our two-part look at network maps Urban Realm investigates how the technique can be extended beyond visualising the geographic and virtual to integrate the real-life needs of society. Here we learn how the social system map connects target communities with available public services to improve their well-being and employment prospects.
Back to Home