Current Issue
The current issue of Urban Realm contains articles on: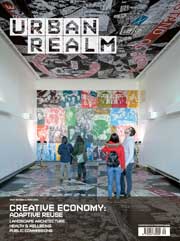 Health Conscious – As the wellness agenda advances from the drawing board to reality Urban Realm visits some pioneering examples of a new breed of one-stop-shop patient services which seek to enhance care provision.
Edinburgh Printmakers – Castle Mills, recently converted by Page\Park to serve as a new base for Edinburgh Printmakers, shows how a hive of industry can buzz once more as a creative powerhouse. Can it give Fountainbridge some welly again?
Landscape Architecture – Our regular look at outdoor design lands this summer with a focus on growing climate concern. Just how is growing awareness of the issue impacting practices, clients and the public at large? We assemble leading voices in the field to give their views on where the profession is headed.
Creative workspaces - Marginal buildings from Kingston House, Tradeston, to Many Studios at the Barras are being given a new lease of life, tranforming marginalised inner cities in the process. We look at the advantages conferred by reuse over replacement by putting these buildings front and centre where they belong.
Lakhta Centre - On the shores of the Gulf of Finland a new tower has risen as a symbol of Russia's immense oil and gas wealth, transforming the skyline of St Petersburg at a stroke. We examine the background to its construction with the man who helped make it happen.
Public Commissions - From big-ticket public commissions to smaller scale student challenges, competitions have traditionally provided a gateway for practices and individuals to showcase their talents, but is the current system operating in our own best interests?
Architecture Fringe - Architecture Fringe wrapped up their 2019 programme with the big lecture, an opportunity for architect peter barber to articulate his manifesto for a housing revolution. Urban Realm stopped by to hear what he had to say and ask what lessons London holds for the wider country.
Back to Home