Current Issue
The current issue of Urban Realm contains articles on: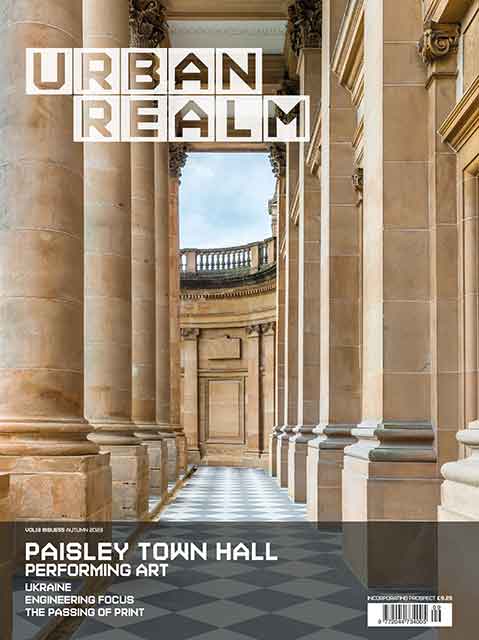 Cumbernauld
Cumbernauld has emphatically turned its back on high-rise housing at Burns Road, drawing inspiration from classical crescents over post-war forms. We look at what this says about the direction of travel in the New Town against the backdrop of plans to demolish the town centre 'megastructure'.
Practice Promo
Mark Chalmers trawls the archives from the 1980s through to the early 2000s on a mission to see how the way in which practices present and record their work has evolved. More than just the story of hard copy brochures being displaced by websites, recent decades show that the footprint of buildings that were never built or have already been demolished is more ghostly than ever.
Kit Houses
The quality of rural housing design in the Outer Hebrides has been thrown into the spotlight by a flurry of development on the back of new regulations. Proctor & Matthews director Stephen Proctor and head of placemaking at the Scottish Government Susie Stirling warn we are at a critical moment if we are to avoid compromising island landscapes.
Ukraine
Whilst there is regular media coverage about the devastation and destruction of Ukraine, little is said about what is being planned even now for its recovery. Here Leslie Howson discusses the challenges being faced in the re-construction of this war-torn European neighbour, the irony of post-war opportunities, and various initiatives underway and exposes what it is like for a practice of architects and planners trying to work in Kyiv today, under war conditions.
Engineering
The return of Urban Realm's engineering report provides an opportunity to go over the most impressive work of the past year and delve into issues as diverse as the rise of AI, skills and fees.
Paisley Town Hall
Paisley's shift from an industrial centre to a cultural powerhouse has taken another key step with the transformation of its Town hall into a multifaceted events space. Here, we assess its performance. Photography by Chris Humphreys.
Student Awards
We catch up with 3DReid's class of 23 following the reveal of this year's winners of the practices established student prize, a bid to reach out to the finest upcoming talent. From a pyramidal vision of Udaipur that reconnects the city to the textile industry to a novel means of narrowing the gender data gap during times of trauma, the winning work reinforces the importance of a great idea in attaining success and recognition.
Back to Home