Current Issue
The current issue of Urban Realm contains articles on: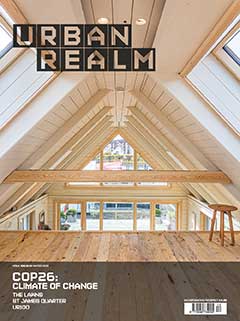 COP26
Urban Realm reports on the built environment ramifications of COP26, from net-zero school designs to a zero-carbon, circular house design and a bid to retrofit public spaces as offices a new consensus is emerging to wean us off concrete. Can architects learn to be more humble in working with rather than against nature?
The Lawns
We revisit a later-period Gillespie Kidd & Coia halls of residence at the University of Hull, the seed for a photo essay of the practice's work framing a broader discussion of the adaptive re-use of vacant buildings and the challenge of post-Covid education settings.
St James Centre
You've heard all the toilet humour but what's the reality of the largest development witnessed in Edinburgh for a generation? With the most inauspicious launch background imaginable is the centre outdated already?
UR100
The New Year delivers a fresh summary of the state of play in architecture with a look at the projects and practices taking us out of lockdown on a more sustainable footing. We thank and rank with our latest in-depth survey.
Cove Park
A curvilinear timber lattice outdoor classroom in Argyll has the ambitious task of sparking root and branch reform of construction by reseeding a lost temperate rainforest. We look at how timber technology has been stretched to its limits.
Esteem House
Completion of the Esteem House at the Mohammed bin Rashid Al Maktoum Solar Park, Dubai, marks the culmination of a multi-year odyssey by a student team from Heriot-Watt University. We conclude our coverage with a look at how real-world performance matches up to expectations.
SEDA
Fresh from COP26 Urban TRealm explores the longer-term ramifications for the built environment with the Scottish Ecological Design Association as it helms a series of build, solar and land initiatives designed to turn words into action.
Back to Home