Current Issue
The current issue of Urban Realm contains articles on: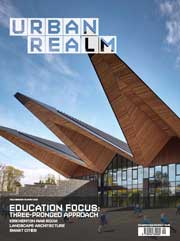 Education
A wave of schools construction is transforming education but is it also transforming architecture? Keri Monaghan of Stallan-Brand, architects of a wave of eye-catching new schools for Scottish Borders Council, shows what can be achieved through direct procurement.
Boroughmuir High School
Boroughmuir brings new meaning to the term high school but is a rooftop games court enough to bring urban education up a notch? Urban Realm tours this set-piece school to see whether its constrained footprint packs a commensurate punch.
West Calder High
Amongst the spoil landscape of West Calder a new landmark has taken shape, following up the industrial revolution by ushering in an education revolution of its own. With school still out for the summer urban realm was invited to take an exclusive look behind the scenes at West Calder High to see whether it has what it takes to mine a rich seam of talent.
Architecture Fringe
As part of this year's Architecture Fringe Hoskins Architects brought their own symbolic interpretation of the programme with a one-off exhibition. The Uncommon Beauty of common things depicts the emotional and aesthetic heft of the unlikeliest of objects and forms, from bike tracks to concrete cores and even a wild oat seed. On such unpromising ground a variety of evocative art has taken root. Associate director Nick van Jonker talks us through.
Landscape Architecture
Landscape architecture are well versed at transforming outdoor space but which road will they embark upon next? Urban Realm grills seven trend setting voices from the profession to establish their views on everything from biodiversity to garden cities and the growing influence of technology in shaping the environment around us.
Scottish Design Awards
Urban Realm is organising the Scottish Design Awards for the first time in its 21 year history as we augment our print and digital media output. In this way we aim to bring you closer to the events action than ever before - starting with a full summary of all 78 nominees.
Construction Innovation
In a quiet corner of rural Blantyre an extraordinary army of robots and cutting-edge tools have been assembled to serve on the front line in a battle for better building standards. Urban Realm got up close and personal with these impressive machines at the Construction Scotland Innovation Centre to assess what contribution they can make toward the holy grail of driving up quality and productivity while pushing down costs.
Kirknewton War Room
As the Cold War hots up we dig up the ghost of Kirknewton War Room near Edinburgh, an underground bunker which would have served as a regional seat of government until it became obvious that there could be no protection from a nuclear war. A unique example of utilitarian defence architecture it sadly no longer exists, having been demolished in 2003, but is survived by a sister bunker in Cambridge. Sean Kinnear assesses the fallout emanating from this busted bunker.
Campbeltown Picture House
Campbeltown's atmospheric picture house has thrilled audiences for over a century but had latterly descended into a horror show of its own making. Now extensively refurbished it is a picture of health once more but what can it tell us of wider rebirth and renewal? Are you sitting comfortably? Then let us begin.
Glasshouses
The Front Range Glasshouses at Edinburgh's Royal Botanical Garden have long been hailed as a hi-tech prototype. Here Mark Chalmers reflects on the wider impact on modernism presented by these powerful cathedrals to nature.
Smart Cities
As developments such as Masdar City and Songdo reshape what our urban environments can be we take a look at Bristol and Glasgow to see how these ideas can be put into practice in the more chaotic reality of our existing 'dumb' built fabric.
Back to Home