Current Issue
The current issue of Urban Realm contains articles on: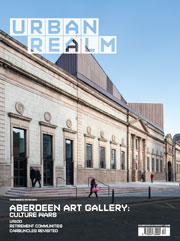 Public Housing
Shifts in policy are fuelling a new breed of public housing but is it enough to meet demand and of sufficient quality to stand the test of time? Will future generations look back on the present day as a 'golden age'?
Classical Edinburgh
Urban Realm visits Colin McLean's photographic exhibition of Neo-Classical architecture in the New Town to see how the World Heritage site has evolved over the past 50 years.
Aberdeen Art Gallery
Aberdeen has ramped up efforts to bolster its cultural cache with the reopening of Aberdeen Art Gallery following a £24.6m redevelopment at the hands of Hoskins Architects. Has the city successfully made the switch from oil to oil painting?
Retirement Communities
Abrupt demographic changes bode significant change in the years ahead sparking a new breed of retirement community to meet the needs of the over-55s. Might this point a way to resolving the housing crisis?
3D Modelling
Technological advances have taken the art of sketching a long way from the humble pencil but how is a new breed of software and systems influencing the process of design? We dissect the use of BIM and virtual reality to see how these new mediums are governing change.
Sheffield
Mark Chalmers continues his tour of former industrial towns with a visit to Sheffield as he records the city's fading industrial legacy before it is lost forever. We take a look at some of the key regeneration schemes which are seeing a city once famed for its steel forge ahead during a period of rapid urban regeneration.
Carbuncles
It has been ten years since the launch of a rebranded Urban Realm in which time we have witnessed a number of highs...and some lows. Here we look back at some past winners of the Carbuncle award to see whether the intervening years have been kind. Has the award made a difference on the ground?
UR100
Another year brings another hundred best practices to the fore but who are the runners, riders and risers of 2019? We've crunched the numbers to bring you the definitive countdown of who has done most to shape our built environment for the better, detailing the year's standout projects along the way. Let battle commence!
Jim Clark Motorsport Museum
Deep in the Scottish Borders the reimagined Jim Clark Motorsport Museum has shifted up a gear, drawing petrol heads and history buffs alike to relive a unique period in sporting history but is its broader contribution to the future of Duns a racing certainty?
Back to Home