Current Issue
The current issue of Urban Realm contains articles on: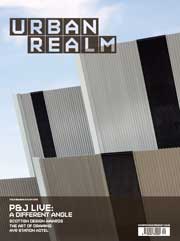 SDA
The 22nd SDA are covered in full, we take a detailed look at all category winners which showcase Scottish design at its best.
Ashtree Road
Shawbridge is in the throes of radical with architects looking to the distant past to resolve more recent mistakes. As new kid on the block Graeme Nicholls Architects are leading the charge with their first major scheme.
Tourism
Record breaking heat is bringing record numbers of tourists but is our infrastructure up to the job? Alistair Scott assess the impact on cities and their regeneration potential in the Airbnb era.
Waverley Station
Rising passenger demand at Edinburgh's rail hub has provided the impetus for a new masterplan, we assess its impact on the Old and New Town's and the implications for future travel.
AECC
Aberdeen's new events hub promises to position the city as a must-see destination for visitors but is the architecture a must-see attraction in its own right? Urban Realm takes a look.
Engineering Report
Urban Realm return's to the engineering sector with our latest report documenting the perception, direction and representation of the profession.
Drawing
Mark Chalmers takes us by the hand to explore the dying art of drawing, pulling together contributions from those who steadfastly refuse to lay down their pencils in the process.
Housing
We take a look at housing policy, including the adoption of minimum space standards. Does this mark a turning point in the provision of homes over units?
Back to Home