Current Issue
The current issue of Urban Realm contains articles on: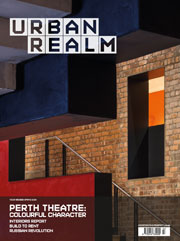 Coventry – John Lord continues his Brexit Britain series with a look at Coventry, UK City of Culture 2021. Having built a singular post-war legacy where is it headed culturally and economically?
Brodick Ferry Terminal – The Isle of Arran has a new port bastion with the opening of Norr's Brodick Ferry Terminal but will this castle-like structure attract or repel visitors?
Perth Theatre – Richard Murphy Architects follow-up to Dunfermline Museum & Gallery shares many characteristics with the Doolan winner but does it do enough to build an identity of its own?
Interiors – Interior design springs into focus this April as UR unleashes the results of our in-depth survey to furnish you with insider knowledge on where the industry is headed through 2018.
Russia - Dr Jonathan Charley narrates the changing face of Russia as a Putin plan to build a 'New Moscow' takes shape. With photography from Chris Leslie we document the dying days of some 8,000 'Kruschev' flats as they await the wrecking ball.
Churches – Mark Chalmers travels to redundant churches investigating what new uses these evocative buildings can be put, raising questions of the sustainability of Britain's rural fringe along the way.
Back to Home