Current Issue
The current issue of Urban Realm contains articles on: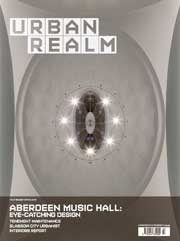 Interior Design – Urban Realm dives into the world of interior design for our spring focus as we focus on 2019's gathering trends, as well as the biggest changes which look set to disrupt the sector. Hear from the best interior designers in their own words.
Mass Appeal – We speak to the architects embedded within some of the country's biggest developers to see how they are shaping design standards on the front line. We explore the rationale behind bringing architecture in-house and the pressures of achieving mass appeal.
Donaldson's College – Edinburgh's Georgian crescent's have provided inspiration to generations and now that pedigree has found new form at Donaldson's College courtesy of Richard Murphy Architects. We look at how the historic typology has been repurposed for modern living.
Tenement Maintenance – Year's of neglect in the maintenance of Scotland's tenement heritage have come to a head with a backlog of repairs which threaten to swamp owners and local authorities alike. Architect John Gilbert looks at how we came to be in this situation and what can be done to initiate much-needed repairs.
City Urbanist – The newly created role of City Urbanist in Glasgow promises to bring independent scrutiny to developments but is it enough to effect real change? We speak to prof Brian Evans about his plans to reshape place and design over the next three years.
Maraya – Urban Realm travels to Maraya in Al-Ula, Saudi Arabia, to view a new breed of concert venue. Clad entirely in mirrors on two-sides it brings a new perspective to the UNESCO World Heritage site. We bring home the lessons learned ahead of Chipperfield's Edinburgh venue.
Aberdeen Music Hall – Aberdeen Music Hall is in harmony with its surroundings once more following a much-needed overhaul at the hands of BDP. We sound out the team behind its delivery and assess the wider implications for efforts to rejuvenate Union Street.
Schupp & Kremer – Mark Chalmers takes a look at the legacy of the Bauhaus-trained architects who transformed the Ruhr area with a series of collieries and factories. The most famous of these, Zollverein, is now a world heritage site, forming an interesting point of comparison with the treatment of our own industrial legacy.
Govanhill – Making headlines for all the wrong reasons Govanhill has struggled to shake off labels of squalor and decline. Sean Kinnear visits Govanhill Pool to see how one project has the potential to shatter these perceptions.
Back to Home