Scottish Canals 'Living on Water'
In 2012 Scottish Canals commissioned rankinfraser to design the on-land facilities for their pilot Living on Water site at Leamington Wharf, Edinburgh. Following the success of that initiative Scottish Canals progressed with developing a series of other sites to enable people to live on one of Scotland's canals. These sites ranged from secluded rural sites such as Causewayend Basin near Linlithgow to urban and post industrial sites such as Applecross Basin in Glasgow.

rankinfraser developed the storage huts designed for Leamington into three typologies suitable for urban, rural and industrial locations across the Lowland canal network. The huts are based on the same timber frame module and clad variously in horizontal timber boarding, cedar shingles or steel. The colours of the huts are carefully matched to complement or contrast with their specific contexts.

PROJECT: Scottish Canals 'Living on Water'
LOCATION: Forth and Clyde and Union Canals
LANDSCAPE ARCHITECT: Rankin Fraser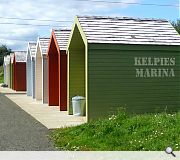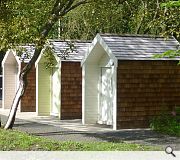 Suppliers:
Main Contractor: Paterson Garden Buildings
Back to Infrastructure, Urban Design and Landscape