Rhue House
This Zinc clad house in the township of Rhue near Ullapool, sits on a wonderful site with south west views to Loch Broom and the Summer Isles.

The house design takes inspiration from the low pitch agricultural sheds that pepper the landscape. This achieves a low profile from the main road - which was a key planning requirement . A split level arrangement creates an "upside down" two storey house with the main living spaces located on the upper level.

External elements including a freestanding wall, carport and woodshed creates a variety of sheltered sun-traps on this exposed site.

The plan of the house is a parallelogram, which arrived quite naturally during the design process This shape allowed multiple spaces to get a view of the sea, and also allows the first floor terrace to be sheltered by the overhanging cantilevered roof. It also creates an interesting "prow" shape directed towards the lighthouse, the summer isles and the sunsets beyond. We liked to call that the" Titanic moment" as we worked on the design.

The parallelogram could also be imagined as the whole building twisting towards the outstanding view.

This low energy house incorporates high specification windows, insulation and a whole house ventilation system. Heat is provided by a wood burning stove, supplemented by solar panels for hot water.

PROJECT: Rhue House
LOCATION: Ullapool
CLIENT: Private
ARCHITECT: Rural Design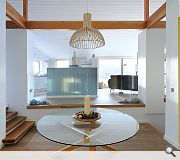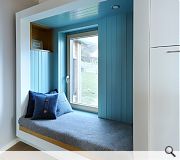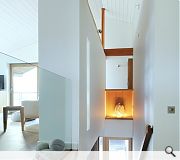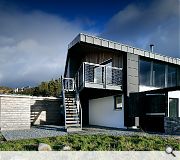 Suppliers:
Main Contractor: Ullapool Construction
Photographer: Nigel Rigden
Back to Housing