Advocate's Close
Situated in the heart of Edinburgh's Old Town, this historic site was formerly occupied by the City of Edinburgh Council and encompasses 9 listed buildings over 11 storeys and bridging 3 closes between the High St, Cockburn St and Market St. The proposals form a vibrant new quarter in the Old Town that combines the rehabilitation of historic buildings and public realm with alterations and interventions which participate in the continuing organic architectural evolution of the Old Town. The design proposals borrow from the eclectic range of historic architectural forms and styles, each redolent of their particular era, to continue the established pattern of overbuilding and modification. Whilst retaining all of the existing buildings, 21st century elements have been carefully added to reinstate the historic form and mass of the site.

The mixed use scheme provides a new 208 room hotel – the UK's first Motel One, 37 serviced apartments on the upper levels with restaurants, offices, bars & cafes opening on to and enlivening the surrounding squares & closes. It also includes a new pedestrian thoroughfare linking Advocate's Close with the News Steps. The redevelopment focuses on providing public amenity at ground level to encourage movement and interaction throughout the site. A number of building uses and functions all have direct access to the open spaces within the site, including restaurants, offices, a bar and serviced apartments. Pedestrian routes through the site are rich in contrast between enclosed and open space, sequential experiences of view and vista as well as building form and detail which combine to create strong impressions of transition and arrival at access and nodal points. The routes also provide useful shortcuts from the High Street to Market Street, Cockburn Street, Princes Street Gardens and Waverley station.

Roxburgh's Court offers the opportunity for a focal point at the interior of the block: a stopping point and amenity space in contrast with the linear quality of the closes. Remodelling of the facades to enliven and condition the space and the creation of a cafe-restaurant on the square's northern edge have revitalised this key public space.

A new link from the News Steps to Advocate's Close improves connectivity and movement through the site. This effectively reinstates the former connection of the News Steps and Advocate's Close. The design proposals within the context of the existing range of buildings and important heritage setting required to balance two primary objectives: To make the best use of existing buildings in terms of efficient use of resources, retention of architectural heritage and to create a desirable place to stay, work and socialise and to respond positively to conservational aspirations for the enhancement of the world heritage site and conservation area, whilst at the same time promoting contemporary design, in this case, as a rational means of resolving inherent problems of the site, knitting together disparate constructional and spatial elements and to present a more coherent idea of the architectural evolution of buildings on the site.
PROJECT: Advocate's Close
LOCATION: Old Town, Edinburgh
CLIENT: Chris Stewart Group
ARCHITECT: Morgan McDonnell
STRUCTURAL ENGINEER: Will Rudd Davidson
SERVICES ENGINEER: Rybka
QUANTITY SURVEYOR: Thomas & Adamson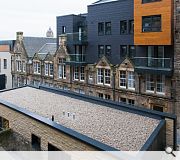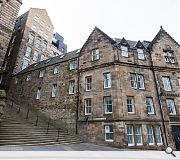 Suppliers:
Main Contractor: Interserve
Back to Historic Buildings & Conservation