New Lister Building
The refurbishment and reconfiguration of The University Tower (renamed New Lister Building) at Glasgow Royal Infirmary to accommodate over levels 1, 4 and 5, new state of the art Diagnostic and Reference Labs and new Clinical Research and Teaching Facilities for NHS Greater Glasgow and Clyde, and on levels 2 and 3 research labs and teaching space for Glasgow University along with new facilities for the MRC Institute of Hearing Research.

The organizing idea for the layouts of the floors is the wide, tilted circulation spine which cuts through the building to the new 'eyebrow on the front elevation. This 'eyebrow', a projecting vertical glass element draws daylight into the deep plan building and is the focus for orientation on each level. The glazed walls between the labs and the wide circulation space enhance the feeling of light and space.
The completed 'eyebrow' makes popular staff areas on each floor, a haven to get away from the close lab work and enjoy the panoramic views.

The requirement to adopt colours for wayfinding and to highlight hand washing and lab coat protocols has been the spring board for the use of colours to build on the dynamic of the spaces and create a bright, bold and appropriate environment.

PROJECT: New Lister Building
LOCATION: Glasgow Royal Infirmary
CLIENT: NHS Greater Glasgow & Clyde
ARCHITECT: Armitage Associates
STRUCTURAL ENGINEER: WSP
SERVICES ENGINEER: Davey + McCulloch
QUANTITY SURVEYOR: Binnie McKenzie Partnership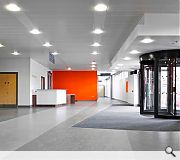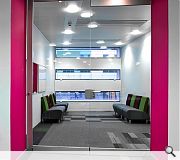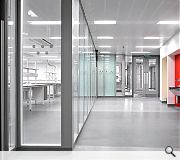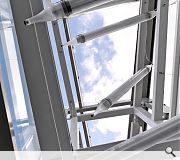 Suppliers:
Main Contractor: Balfour Beatty
Back to Health