Calder Road
Located on the edge of Bellshill on a prominent corner site at the junction of Main Street and Calder Road, the three & four storey development comprises 3 No. cottage flats with individual entrances and a further 13 No. flats accessed through a common stair and lobbies located to the rear.

Built by Merchant Homes for Clyde Valley Housing Association, the 16 flats provide a mix of 1 and 2 bedroom properties for social rent. A Secured by Design accredited project, the design focuses upon continuing the building line and creating a strong street edge with a curved 'drum' providing a positive element to the corner. The building steps up to four storeys at this point and the roof breaks into forms that echo the newer developments nearby.

Materials are layered on the façade with the render and brickwork chosen to match the colours of the older, traditional buildings adjacent. Individual flat plan layouts are varied through the development and meet HFVN guidelines.

The flat to the top storey uses the attic space of the main roof and is provided with a generous roof terrace. Form, layout and landscaping provide privacy for tenants while an off-street parking courtyard serves the residents needs.

Work was completed in May 2013.
PROJECT: Calder Road
LOCATION: Bellshill
CLIENT: Clyde Valley Housing Association
ARCHITECT: Hypostyle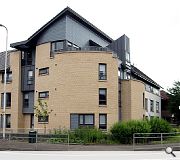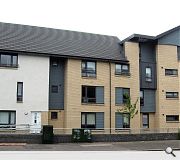 Suppliers:
Main Contractor: Merchant Homes
Back to Housing