Svolvær Havn
Situated at the quayside in the very heart of the town of Svolvær, a 6,200 m² combined residential and business complex will reach completion in 2010. The residential part comprises 2,800 m² of housing distributed between two apartment buildings with a common courtyard one storey above street level.

The project is inspired by Svolvær's lush and spectacular landscape and is adapted to the surrounding buildings. In addition there was a clear ambition to develop an urban structure that would add a new dimension to Svolvær – a structure that would contain varied buildings and sheltered urban spaces functioning as 'green lungs' and snug zones.

The proposal shows stepped cornice levels creating variation in the roof landscape. Thus the roof form mirrors both the terrain and the landscape while the roof surface provides both beautiful views and outdoor relaxation sheltered from wind and weather.

The intention has been to vary both the height and relief of the facades that together with vertical wood paneling of different widths and with different finishes would combine to give the building a differentiated and exciting expression.

NSW's Svolvær office will move into premises on the ground floor facing the quayside while the first storey will house a bank and other business enterprises, with residential housing overhead.

All the apartments have double exposure with windows on both sides and have views of the sea or the mountains, or both, and they all have either a balcony or a terrace.

The apartments have a 2.70 ceiling height with floor-to-ceiling windows in the living-room and kitchen offering Lofoten's most spectacular view.

PROJECT: Svolvær Havn
LOCATION: Lofoten, Norway
CLIENT: Ketil Fjerdingen
ARCHITECT: Narud Stokke Wiig Architects
STRUCTURAL ENGINEER: Stokvik Nøren
SERVICES ENGINEER: Kavelvåg Elektro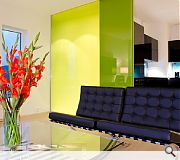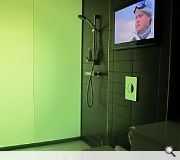 Suppliers:
Main Contractor: Stokvik Nøren
Back to Housing