Castle Park visitors pavilion
Craigmillar Castle Park Cemetery is the new principal Cemetery in Edinburgh now that ground at Mortonhall Cemetery has been exhausted. Bereavement Services from The City of Edinburgh Council were clear about their aspirations for the project at the outset. The building would not simply fulfill a requirement for toilet provision on a cemetery site but it was to be a gateway building to welcome people of all religions.

There was a need to provide a place for spiritual contemplation and a building that the community of Craigmillar would take pride in. Due to the restrictions on staff attendance on the site, the building had to achieve a high level of security against vandalism. It was vital to the integrity of the project that these security measures were integrated into the design in the early stages.

The concept for the building came from the idea that the building could frame the view of The Crags beyond providing the perfect backdrop for quiet contemplation. This was further developed into a "box in a box" idea with a larger white box supporting an external experience to and around the building. This encloses a smaller black box which accommodates the internal facilities. A contemporary minimalist aesthetic was adopted which we feel gives the building a sense of dignity and calm.

The materials chosen were specified to express simplicity and elegance and to minimize potential vandalism. The principal material throughout the building inside and out is a porcelain tile. White ribbed tiles enclose the white box and a machine routered plywood soffit board, painted to mimic the white tiles, was specified to achieve the "box in a box" effect without having to form a rain screen fixing which is required for overhead tiles.

Black granite effect polished tiles were used to clad the black box and full height black painted steel sliding screens slide in front of anti-bandit glass doors and frameless glass windows offering protection when the building is closed. A frameless glass window maximizes the view of the Crags. Recessed vertical and horizontal LED strip lighting, both internally in the contemplation space, externally around the black box perimeter at high level and beneath the bench highlights the clean simple lines of the building.

Perforated butterfly images cut into the galvanized screens symbolize the spirit leaving the soul for all religions.
PROJECT: Castle Park visitors pavilion
LOCATION: 47 Old Dalkeith Road, Edinburgh
CLIENT: The City of Edinburgh Council
ARCHITECT: The City of Edinburgh Council
STRUCTURAL ENGINEER: Will Rudd Davidson
SERVICES ENGINEER: Rybka
QUANTITY SURVEYOR: Thomas and Adamson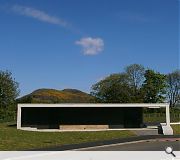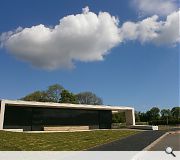 Suppliers:
Main Contractor: Maxi Construction Ltd
Back to Public