Centurion Way
The development occupies a brown field site sandwiched between the Southern boundary of Yorkhill Park and a key rail link heading North West from the city. Beyond the rail lines, lies the Glasgow Express Way and the River Clyde beyond.

Addressing the issues raised, the buildings were located as far as possible from the rail and traffic noise and South facing windows designed to incorporate noise reducing glazing.

In order to reduce the impact the buildings have on the amenity of the park, massing was broken in to four blocks (informed by the housing mix) with a view to retaining the vistas between the buildings.

The relationship with the park setting was further celebrated by ensuring perimeter fencing was kept to a minimum, defining the private space with out losing the open feel of the surroundings. Internally, the visual connection to the park is further emphasised with curtain wall glazing to the common stair.

Both externally and internally the four blocks are completely 'tenure blind' with only differences being in the provision of white goods and appliances to the Shared Equity and Mid Market Rent blocks.

In keeping with 'Housing for Varying Needs' guidance, all flats offer exceptional space standards.

PROJECT: Centurion Way
LOCATION: Yorkhill, Glasgow
CLIENT: Partick Housing Association
ARCHITECT: Coltart-Earley
STRUCTURAL ENGINEER: Arup
QUANTITY SURVEYOR: Turner & Townsend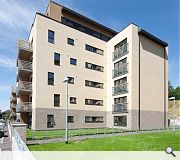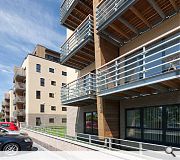 Suppliers:
Main Contractor: McTaggart Construction
Back to Housing