Caer Amon Apartments
The Caer Amon apartments are located to the West of Edinburgh City set alongside the river Almond were it joins the Firth of Forth. Taking advantage of the location and the views offered by it was the primary objective of the project. Elevating the building to four levels allowed the upper floors to gain stunning views over the Forth Estuary towards the Kingdom of Fife.

To give the project a more intimate scale, courtyards were created to provide shelter and communal recreational areas for residents. A sustainable landscaped green roof was installed with parking space below. Each level of the building is served by a lift providing comfortable access between apartments, gardens and secure parking space.

The silhouette of the building has been fragmented into several integrate forms to avoid an overpowering presence. These broken forms are intricately detailed to give an elegant contemporary appearance within the rural surrounding context.

Internally the generously proportioned rooms have been based upon Georgina period homes and each flat contains a distinctive curved bay window. The dual aspect and stepped form of the building along with generously sized windows flood the apartments with natural light. Many apartments feature distinctive roof terraces and balconies making the most of the stunning surrounding scenery.

The apartments feature high quality marble floor finished in the kitchen and bathrooms, contemporary glass sliding doors and under floor heating. One of the most distinctive features of the design is the drop cill feature on the windows allowing residents when seated to enjoy the surrounding views.

The Caer Amon Development was completed in September 2013.
PROJECT: Caer Amon Apartments
LOCATION: Brighouse Park Cross, Edinburgh
CLIENT: AMA Homes
ARCHITECT: AMA
STRUCTURAL ENGINEER: Harley Haddow LLP
SERVICES ENGINEER: Blackwood Partnership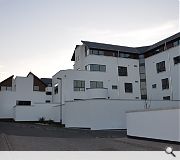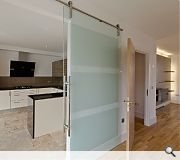 Suppliers:
Main Contractor: AMA Construction
Back to Housing