Riverford Road
Riverford Road is a public realm and gardens enhancement project bringing together artists, architects, landscape designers, local school children and the community.

Collective Architecture were commissioned to design a lighting installation illuminating the main pathways, mounded garden features and granite benches. A workshop was held at an annual gala event to explore themes through model making activities. LED torches were utilised along with coloured acetates and films to furnish a light box which was then enclosed in a black-out material to allow the participants to view a variety of lighting effects. This was a useful exercise resulting in a range of lighting patterns to be taken forward in the final installation.

Collective Architecture worked closely with a European lighting manufacturer to develop a new column and luminaire product. This involved the rotary engraving of bespoke patterns in a specially designed CNC mill. The final column was assembled in Germany, tested and delivered to Glasgow where it was installed by a local contractor. The columns were individually positioned next to silver birch and cherry trees where the lighting could interact with the tree canopy to create constantly changing patterns of shadow and light.

A halloween themed community event was held on completion of the lighting. This involved local schools and community groups participating in further activities and games, culminating in a count-down to the final switch on and the official launch of the Riverford
Road scheme.
PROJECT: Riverford Road
LANDSCAPE ARCHITECT: Collective Architecture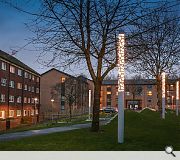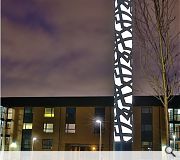 Back to Infrastructure, Urban Design and Landscape