British Airways Lounge, Edinburgh
Graven has been working with British Airways to evolve the design of BA's Galleries Lounges and have created BA Galleries Evolution Manual Guidelines, which forms the basis of the design for each BA Lounge detailing all the iconic Galleries concepts and components to be designed and delivered at airports worldwide.

The new 730 sqm BA Lounge at Edinburgh Airport can accommodate up to 200 customers and is almost twice the size of the previous facility.

The BA Lounge celebrates the best in British design, including innovative features such as maître'd style customer welcome pods with LED-illuminated mesh back-panels featuring BA's famous logotype and highly visible branding and a tiled floor in traditional herringbone pattern.

The leather used in the furnishings is by Scottish leather specialist supplier Muirhead.

The artworks displayed on the walls of the lounge are works by talented young artists from Edinburgh School of Art and selected pieces from the British Airways art collection.

Other features include:
• new-style reception area
• bistro and coffee area
• full complimentary bar
• business suite with printer and PCs
• fully enabled complimentary wifi with new 'air printing', allowing guests to print from their own mobile devices.
• private work booths

Completed in January 2014, this lounge together with the lounge at Glasgow Airport, which opened in March last year, and the refurbishment of the lounge at Aberdeen Airport means that British Airways has invested more than £2 million in less than 12 months to provide their Scottish customers with state of the art facilities.

Graven continue to collaborate with British Airways in delivering BA Galleries Lounges throughout the world and have designed BA Lounges in the following Airports:
• Aberdeen
• Belfast
• Edinburgh
• Glasgow
• Miami
• Singapore
• Washington DC.
PROJECT: British Airways Lounge, Edinburgh
LOCATION: Edinburgh Airport
CLIENT: British Airways
SERVICES ENGINEER: Hulley and Kirkwood
INTERIOR DESIGNER: Graven
PROJECT MANAGER: Turner & Townsend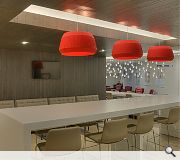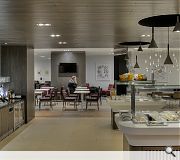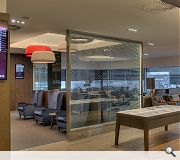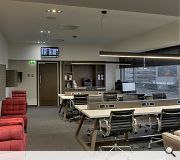 Suppliers:
Main Contractor: Thomas Johnstone
Back to Interiors and exhibitions