SoCo
The complex and sensitive 'SoCo' development site lies within the heart of the Edinburgh World Heritage Site and the Old
Town Conservation Area. Following a devastating fire in 2002 the site in this vital part of Edinburgh's Old Town lay derelict
for ten years

With an intricate and convoluted history involving the medieval Cowgate and the newer classical intervention of South
Bridge, in which important figures such as John and Robert Adam played critical roles, the development of this site has
attracted considerable attention from a large number of stakeholders.

It is within this context that we were approached to develop proposals for Jansons Property incorporating a 259 bed hotel,
retail space on South Bridge, commercial uses on Cowgate, the re-establishment of the jazz club La Belle Angele that
was located on the site prior to the fire and extensive new external public realm space.

Unguarded discourse and dialogue with all interested parties was always going to be key to the successful advancement
of this project and throughout the design process we met regularly with City of Edinburgh Council and as many historical
groups and involved organisations as possible. The architectural conceptual strategy and design resolution sought to
unify the various disparate elements of the planning brief and the voices of the key consultation parties with a design
approach that 'repairs' this important urban site. Fundamentally the design approach that the studio followed on this
project was contextual, seeking neither a fashionable or iconic outcome but a building that has a truthful and timeless
quality.

The internal and external public spaces will play a key role in the success of the completed development and the design
of these areas has focused on contrasting textures, materials and lighting. The interior spaces have an intimate, relaxed
feel. The bar area with its eclectic mix of lounge seating and intimate seating booths gives views out to the external public
terrace areas. Finishes are natural and relaxed – textured brick with distressed timber, concrete pendant lights with leather
and wool upholstery in refined muted colours. Externally Caithness stone provides a similar natural and enduring quality
throughout the terrace areas and new external routes through the development.
PROJECT: SoCo
LOCATION: Cowgate, Edinburgh
CLIENT: Jansons Property
ARCHITECT: ICA Architects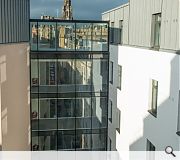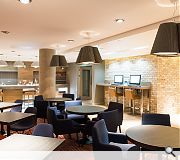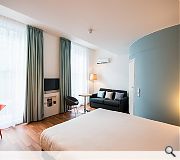 Suppliers:
Main Contractor: McAleer & Ruxhe
Back to Retail/Commercial/Industrial