The Vale Centre for Health and Care
The Vale Centre for Health and Care is a striking building nestled in the grounds of the Vale of Leven Hospital, Alexandria. It provides a broad range of services to the local and wider community including GP practices, dental surgeries and community clinics as well as an office base and education resource centre for staff.

The project brief set a series of benchmarks based on community connections and a requirement for a central public 'heart' around which the building could function for the patients and an 'education hub' around which the staff could interact.

The initial approach to the project centred on its location. The site was relatively hidden within the grounds of the Vale of Leven Hospital away from the heart of the community of Alexandria. The key move was break through the existing tree belt to the east of the site and open it up to the main road from Alexandria town centre. The creation of a route through the site was critical in establishing physical links with the local community.

The starting point for the building itself was an extensive public and staff dialogue process. This created two diagrams of building usage – a public entrance and reception hub surrounded by wings of accommodation and a staff/education hub surrounded by seminar rooms and staff offices. The intuitive approach was to translate these relationships into built form. This located the public facilities at ground floor and the staff and education hub at the upper floor. This stacked the key nodal points directly on the new route through the site and created a radial type plan maximising opportunities for intuitive wayfinding, views out, daylight and natural ventilation to the perimeter spaces.

The building form was defined by conceptually lifting the ground and placing the accommodation underneath. The heart of the building is placed centrally as a gathering space between the accommodation wings all protected by an overarching roof. The roof forms a gently curved elevated ground plane which rises across the site and captures the accommodation below. This soft form and abrupt cliff edges relate to the distant hills and rocky outcrops of the surrounding River Leven and Dumbarton.

The building was procured by NHS Greater Glasgow and Clyde through Frameworks Scotland with the Architect employed by the contractor Laing O'Rourke.

PROJECT: The Vale Centre for Health and Care
LOCATION: Main Street, Alexandria
CLIENT: Margaret Campbell
ARCHITECT: Archial NORR
STRUCTURAL ENGINEER: WSP
SERVICES ENGINEER: Arup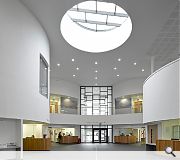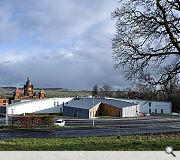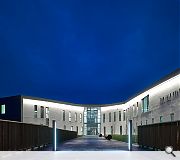 Suppliers:
Main Contractor: Laing O'Rourke
Back to Health