Camus Avenue
The client's brief for this extension, to a modern detached property in the south of Edinburgh, was to design an additional living room and a larger porch plus internal alterations to form a new open plan kitchen / dining space, remodelled utility room and a new WC.

The new living room is entered through new bespoke double half glazed doors onto an upper level, which was proposed as a new study / library area and overlooks the main living space. This upper level is half in and half out of the original house. Stepping down into the main space you are greeted by full height glazing up to the pitched roofline, which looks out over the garden and park beyond, while a recessed fire and shelves are located at the opposite end. Additional natural light is provided by rooflights giving light deep into the upper level. A tall slot window to the upper level also provides the separation between new and old.

The existing kitchen and dining room were knocked together to form one large open plan room to the back of the house. The room was reconfigured to also include the same bespoke double half glazed doors that mirror those into the extension. The dining room window was taken down to floor level to match the existing patio doors from the kitchen transforming this room into a very light and airy space. Finished with a Howdens kitchen and Amtico flooring.

The existing porch was cramp and unwelcoming so this was extended out to triple its size and transform the entrance to this house. Externally the porch is integrated into the extension cleverly so that not to look like an afterthought. And new granite paving gives access to both the French doors of the extension and the new front door.

The existing utility room was also remodelled to match and a new larger WC was created in half of the front office to the original house. And lastly, we introduced two Velux Rooflights above the existing stair to the house to bring much needed natural light into the heart of the home.

The extension is rendered with a stone base course to match the existing house. However, new dark grey timber cladding separates these rendered walls to the new slate roof to give the extension its own modern identity.

Constructed by Hutton and Read Ltd, including all the bespoke joinery work, the extension was finally completed in January 2013.

PROJECT: Camus Avenue
LOCATION: Fairmilehead, Edinburgh
CLIENT: Roy and Vivian Hutchison
ARCHITECT: Craig Amy
STRUCTURAL ENGINEER: David Narro Associates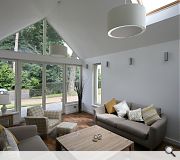 Suppliers:
Main Contractor: Hutton and Read
Back to Housing