Charlotte Square

Located on Edinburgh's prestigious Charlotte Square, these former National Trust for Scotland offices have been refurbished and redeveloped to form prime commercial office accommodation fit for 21st century occupation. The architectural integrity of the six A-listed townhouses has been restored by comprehensive repair, replacement and reinstatement of authentic features.

A new four storey office with underground parking on Hope Street Lane to the rear is linked to the three central townhouses by a lightweight glass & ETFE covered courtyard to provide 32,000ft² of grade A office whilst the three flanking townhouses provide stand-alone units of circa 4,000ft² each.

The design embodies the client's guiding aspiration for the restoration of Charlotte Square and for its promotion as Scotland's pre-eminent business address. The design is intended to facilitate the emergence of Charlotte Square as a key financial trading environment for businesses of paramount international repute, revitalising the local and wider economies as well as the civic character of the immediate vicinity.

The architectural integrity of the listed townhouses has been restored by a programme of comprehensive repair, the replacement of key missing features and reinstatement of authentic room proportions by removing unsympathetic corridors and partitions. Each townhouse once again fulfils its intended architectural narrative presenting a layered hierarchy of floor levels unified by a central top lit grand stair, whilst being subtly updated to include all required amenities suitable for high grade office use such as integrated air conditioning and Cat6 data networks.

The design of the new Hope Street Lane block is modelled on the characteristic form of service lane buildings in the central New Town – utilitarian in character and finished in natural sandstone. Treated timber elements set within the large facade openings on the base course further evoke the former industrial character of the lane whilst providing privacy for the offices within.
PROJECT: Charlotte Square
LOCATION: 26-31 Charlotte Square, Edinburgh
CLIENT: Corran Properties
ARCHITECT: Morgan McDonnell
STRUCTURAL ENGINEER: Quattro Consult
SERVICES ENGINEER: RSP Consulting Engineers
QUANTITY SURVEYOR: Gardiner & Theobald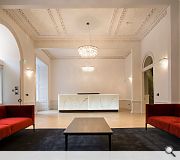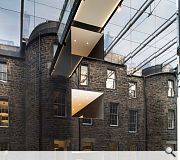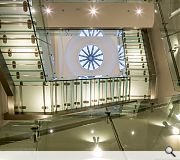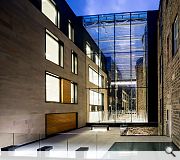 Suppliers:
Main Contractor: Sir Robert McAlpine
Back to Retail/Commercial/Industrial