Morgan McDonnell Office
Built in the most challenging of urban sites, this 185 square metre building completes the final phase of the mixed use regeneration project at Advocate's Close.

The buildings form is designed to tuck discreetly into the surroundings of this architecturally diverse site. The building is designed on 2 levels: ground floor which has entrance reception, meeting room and service accommodation and is accessed from both Advocate's Close and the newly created pedestrian link from the News Steps and upper floor with large open plan studio space, kitchen and 2 meeting rooms.

The building is designed as 2 orthogonal blocks stacked at right angles to each other, with the first floor extending over the pedestrian link to form the portal to the new entrance. Both floors have extensive glazing which connects the building to its surroundings and the recently enlivened street activity.

The external materials of the building coordinate with those of its newly extended neighbours, with squared and snecked sandstone walls, black aluminium cladding to terminate the building and black aluminum windows. The 2 sandstone flanking walls are built on the footprint of the previously demolished (c1900) tenement building and reinstate the enclosure of the close at a human scale. To enhance the rhythm of the elevation and provide privacy screening, strategically located timber screens are installed over full height openable windows.

Internally materials are robust and pared back, with polished concrete floors contrasted with white walls and birch ply feature furniture. Bespoke meeting room lighting and conference table allow the most prominent space some colour and a sense of fun.

PROJECT: Morgan McDonnell Office
LOCATION: 5 Advocate's Close
CLIENT: Morgan McDonnell
ARCHITECT: Morgan McDonnell
STRUCTURAL ENGINEER: Will Rudd Davidson
SERVICES ENGINEER: Rybka
QUANTITY SURVEYOR: Thomas & Adamson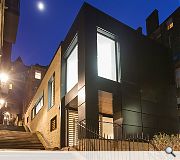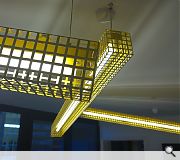 Suppliers:
Main Contractor: Interserve
Back to Retail/Commercial/Industrial