An Cridhe
An Cridhe as named by the island residents means "the heart", and this building is intended to be at the heart of life on Coll. It is a new Community Centre and Bunkhouse that brings together the isle of Coll community and it's visitors. It provides a business centre for local businesses; a rural centre to promote local products; and a hub for social gatherings throughout the year. Importantly, it will also provide the local school and young adults with much needed facilities, which are otherwise inaccessible. Located on Arinagour's and Coll's main thoroughfare, the Community Centre (approximately 500m2) is the focal point of community activity as well as a destination for neighbouring islands. The Main Hall provides a venue for: music concerts; travelling theatre performances; sports activities for local clubs and school; social events; ceilidhs; private functions such as weddings; community cinema; and the annual Coll Gala and half marathon. It addresses the main street of the village with its large gable, whilst inviting and providing passers-by with glimpses of activities taking place through its large fenestration.

At the entrance and heart of the community centre is a large, welcoming 'living room with a fire, casual seating, exhibition and small library. This provides a reception for community and visitor information, as well as exhibit space for local artists and produce. It is predominantly an extension of the circulation, creating an informal meeting space for people to interact on a day-to-day basis. The reception desk also provides a bar for serving refreshments at events as well as teas and coffees during the day.

The centre aims to encourage users of all ages, from young students to professional businesses. Flexible accommodation was therefore a core community requirement to facilitate the various needs of the diverse user groups and functions. The multi-function room is an adaptable meeting space for private business use; hairdressing; arts + crafts; cinema club; music practice and lessons; study group; and remote college learning. Argyll and Bute College have provided computing equipment with videoconference technology to enable further education to become accessible on the island. The community centre is also the headquarters to Development Coll Ltd who are responsible for improving the island's recycling, renewable energy, and social housing prospects.

The adjacent bunkhouse (170m2) provides public laundry and shower facilities, as well as hostel accommodation for 14 people in two dorms and a twin room. The communal living room provides an additional meeting room and a teaching space for cooking lessons.

The site also has a football pitch and 24hr public toilets with shower facilities for players and campers.
The village of Arinagour has been shaped to a significant extent by its crofting history. Rather
than the more typical dense cluster of houses seen on the mainland, it consists of smaller groups
of buildings sharing the same massing, scale and proportions, which are scattered in a landscape typical of the inner Hebrides- big skies, beautiful beaches, scattered houses and farmland. An Cridhe respects this tradition, locating the hall and bunkhouse separately to reduce their scale and co-locating them in a similar way to their traditional counterparts. Even though it is very prominently located, it does not impact on its landscape setting.

The design of the community centre building is based on the traditional form of render building with pitched slate roof and gables, but modernises the concept with clean lines, large fenestrations at key public spaces and crisp detailing. This makes the building sensitive to context, whilst presenting a public building aesthetic.

The bunkhouse is set back further from the street and is clad with timber panelling with a corrugated fibre cement roof, similar to other residential buildings on the island, identifying it as the subsidiary building with domestic function.

The biggest budget constraint and cost was the price uplift for the remote, rural location, which reduced the tight budget further with respect to actual quantifiable building. The specification of materials and products was focused on locally sourced materials to reduce transport cost and allow easy future maintenance. Off-site construction of timber kit panels and glulam frame was also utilised to improve efficiency on site. We also worked with the contractor, who had expertise in civils work, to achieve savings in the groundwork, to maximise the capital allocated to quality finishes internally. The community centre and bunk house were built in a single phase.

PROJECT: An Cridhe
LOCATION: Arinagour, Isle of Coll
CLIENT: Development Coll
ARCHITECT: Anderson Bell Christie
STRUCTURAL ENGINEER: Charles Scott & Partners
SERVICES ENGINEER: Charles Scott & Partners
QUANTITY SURVEYOR: Morham & Brotchie Ltd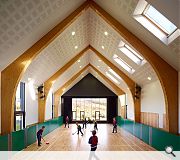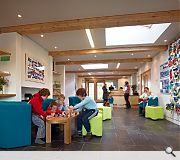 Suppliers:
Main Contractor: TSL Contractors
Photographer: Andrew Lee
Back to Public