Barony Centre
The redevelopment of the existing Barony Church is now the focal point of the wider arts and crafts initiative in the town providing an exhibition gallery, retail area, production workshop, and cafe.

The existing church was C listed. The new sandstone on the extension is separated from the existing church by a recessed zinc panel, the cafe glazing emerges from a rebate in the centre of an existing stone corner buttress, and the curved projecting workshop is recessed around its perimeter and glazed to the sloping roof above.

The building provides an excellent space for producing, exhibiting and selling locally produced arts and crafts work. Furthermore it serves to promote the town's wider arts and crafts agenda by providing a stimulating and rewarding environment for conducting these activities.

The Barony Centre is an exemplary as it retains the basic form and commendable architectural features of an existing church building and through delicate external restoration, comprehensive internal alterations, contrasting but sensitive new insertions, and clear and clean detailing produces a fresh and exciting environment for West Kilbride's commendable arts and crafts initiative.

PROJECT: Barony Centre
LOCATION: West Kilbride
CLIENT: West kilbride Community Initiative Ltd
ARCHITECT: Ingenium Archial Ltd
STRUCTURAL ENGINEER: Roy Easton & Company
SERVICES ENGINEER: Design Me
QUANTITY SURVEYOR: reid Associates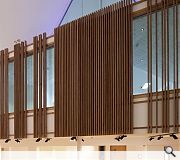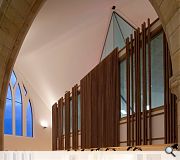 Suppliers:
Main Contractor: Clark Contracts
Back to Public