Patna / St Xaviers Primary School
The design required to provide two local primary schools on a shared campus with nursery, shared sports facilities and a local housing office. The design also required to link the facilities to an existing library and existing community centre. These existing buildings were to be refurbished. There was also the constraint of an existing sports byre on the site.

The design provides a main admin entrance for the school and separate entrances for the library and community centre, but there are also separate canopy covered pupil entrances for the nursery, St Xaviers, Patna Junior and Patna Senior. These canopies provide covered external play space and all classrooms have access onto external classroom space in the form of enclosed courtyards. The shared facilities of science, arts, gym and dining areas are designed to be used by the community outwith school hours.

The roofs have been designed to provide clearstorey light into the circulation areas and give deep daylight penetration into classrooms. Each classroom has a section of floor to ceiling glazed screens giving physical and visual links to external play space.

A CHP unit provides heat and power and the envelope has very high insulation – 400mm in roof, 300mm in walls, 200mm in floor with underfloor heating. High levels of daylight reduce energy for lighting which is daylight controlled.

Materials are facing brick walls with aluminium roof on timber joists. Windows and doors are redwood aluminium clad to reduce maintenance.

Photography by Graham Duncan.
PROJECT: Patna / St Xaviers Primary School
LOCATION: Ayrshire
CLIENT: East Ayrshire Council
ARCHITECT: Austin-Smith:Lord
STRUCTURAL ENGINEER: URS Scott Wilson
SERVICES ENGINEER: Davie & McCulloch
QUANTITY SURVEYOR: Armours Construction Consultants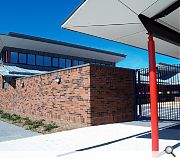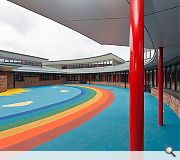 Suppliers:
Main Contractor: Heron Bros Ltd
Back to Education