Grodians
Richard Gibson Architects' Grödians is a new-build social housing development comprising a mix of 1, 3 and 4 bedroom dwellings in flatted, semi detached and detached housing. It is the most recent of a staged housing development in the outskirts of Shetland's main town Lerwick.

The housing is placed within a new pedestrian orientated Homezone-based road layout comprising communal parking, front amenity areas and larger central green spaces with private rear gardens.

Prolonged winter months with harsh winds and low daylight hours necessitates extensive planting and landscaping designed to bring shelter and reduce wind chilling of the houses and the resultant heating demands. A vibrant colour scheme was designed to maintain a visual warmth from within the scheme and a 'cheerie' appearance during winter months.

Close attention has been paid to the energy use and sustainability of the project with local district heating as well as providing good access ibility to ensure Grödians is a safe and enjoyable place for people to live. This has been confirmed by the enthusiastic feedback from the tenants.

Images by Phatsheep.
PROJECT: Grodians
LOCATION: Quoys, Lerwick, Shetland
CLIENT: Hjaltland Housing Association
ARCHITECT: Richard Gibson Architects
STRUCTURAL ENGINEER: Mott Macdonald Ltd
QUANTITY SURVEYOR: John Duguid Partnership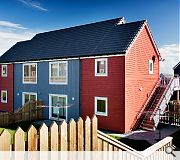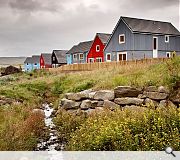 Suppliers:
Main Contractor: E&H Building Contractors Ltd
Back to Housing