St Athanasius Primary School
Carluke Integrated Community Facility and St Athanasius Primary School co-locate in a purpose built 5,000m2 shared facility with a strong civic presence in recognition of its importance at the heart of the local Carluke community.

Design concept considers the juxtaposition of three simple building elements represented in different materials and colours with moments of interest in plan and elevation interplaying at the junctions. This is best emphasised in the black box nursery which has been pulled out from the two storey classroom box along a track with a pull up floating glass box over.

The building arrangement carefully considers the differing individual needs, accommodation and security requirements of multiple user clients whilst maintaining flexibility to share facilities. Main shared area is the large hall space at the centre of the plan with enhanced stage, audio visual facilities and sub-dividable by a large acoustic folding partition enabling school and community use to coexist simultaneously

The principal community facilities comprise:
• halls and meeting rooms
• public library (FF&E undertaken by others)
• social work assisted support centre incorporating group work rooms, cinema, arts & crafts and Multi-Sensory Room
• community café
• courtyard sensory garden.

The principal education facilities comprise:
• 8 classroom primary school accommodating 264 pupils.
• 40/40 pupil early year nursery.

Holmes designed and delivered the entire building with assistance from HAA Design, who under a separate commission by South Lanarkshire Council Social Work contributed to the specialist interior design and fit-out of the community social works aspects.
PROJECT: St Athanasius Primary School
LOCATION: Carluke
CLIENT: South Lanarkshire Council
ARCHITECT: Holmes Miller
STRUCTURAL ENGINEER: URS/Scott Wilson
SERVICES ENGINEER: Wallace Whittle
QUANTITY SURVEYOR: Brown & Wallace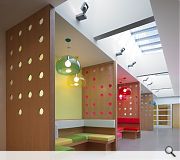 Suppliers:
Main Contractor: Lend Lease Construction
Back to Education