Quaba House
Oberlanders have completed the construction of a new 1500m², 8 bed roomed, luxury home replacing a previously existing house at 50 Ravelston Dykes Road.

The building consists of two wings connected by a glazed foyer containing a feature stair, overlooking both East and West, towards the wooded surroundings and the entrance courtyard. The design takes advantage of the sites topography to set the swimming pool, games room and garage accommodation into the embankment, forming a semi exposed plinth on which the house sits.

Each wing has its own semi-formal garden and living/family spaces facing South benefiting from natural daylight, at different levels as dictated by the slope of the site. Bedrooms, guest accommodation, office and the swimming pool face the naturally landscaped grounds to the North.
PROJECT: Quaba House
LOCATION: ravelston Dykes Road, Edinburgh
CLIENT: Mr & Mrs A. Quaba
ARCHITECT: Oberlanders
STRUCTURAL ENGINEER: Goodson Associates
SERVICES ENGINEER: Blackwood Partnership
QUANTITY SURVEYOR: Allied Surveyors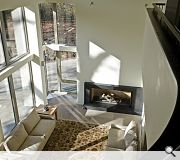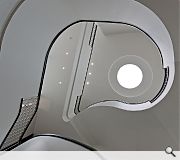 Suppliers:
Main Contractor: Stewart Milne Construction
Pool Specialist: Leisure Designs
Cladding Contractor: Marshall Brown
Stone Masons: Tradstocks Ltd
Flooring: Burlington Stone
Roofing: MBM Hard Metals
Lighting: October First
Interior Design: Ian Smith Designs
Heating/Insulation/Ventilation: T Clarke Scotland
Back to Housing