Hillhead Sports Club
The original club house was built in 1924 and further extended in the 60's and early 70's. The building, however has deteriorated over time and was in desperate need of repair and re-condition.
The design incorporates 3 extensions and general renovation of the Club House. The existing entrance was demolished to give place to a new entrance lobby that includes a lift for disabled visitors. In the ground floor, facing the access lane, a café was designed within the original 1924 building. On the west side of the building, another extension was built to extend changing facilities on the ground floor and further public spaces on the first floor. Public facilities were improved with new Café, and increased number of public toilets. The club members have new and enlarged changing facilities and new gym and muti-function room for various sports.
Externally, the extensions were designed to bond to the existing building and unify previously disjointed architecture. They are
contemporary extensions, built in glass and metal to create a setting which highlights the best features of the existing building.
The Club House has maintained its well-known identity, yet, the new extensions, with its' modern-day design, brought the club house
into this century giving it a new lease of life.
Photography by
Neale Smith
PROJECT: Hillhead Sports Club
LOCATION: Hughenden Rd, Glasgow
CLIENT: Hillhead Sports Club & Bett Homes
ARCHITECT: Young & Gault
STRUCTURAL ENGINEER: W.A. Fairhurst & Partners
SERVICES ENGINEER: KJ Tait Engineers
QUANTITY SURVEYOR: Charles Bell Associates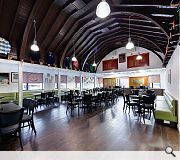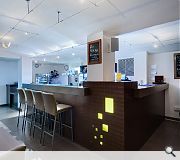 Suppliers:
Main Contractor: akp Scotland Ltd
Consulting Engineer: Professional sportsturf design Ltd
Cladding Contractor: Reid Roofing Ltd
Back to Sport and Leisure