Fore Street
Fore Street is a unique development, which adopts a novel approach towards the design of urban housing in Scotland.
The site sits within an existing Victorian tenement perimeter block, which was previously occupied by two buildings which had fallen into a state of disrepair.
The brief called for a redevelopment of the site, in order to provide affordable housing for rent. The nature of the very tight, narrow backcourt site, required a particularly creative approach in order to address issues such as access, overlooking, and maximisation of capacity & amenity space, all on a modest budget.
In response to the characteristics of the site, an interesting and efficient spatial hierarchy was generated. The development is accessed through a pend within a new block of flats situated on Fore Street, which maintains the scale of the adjacent tenements and reinstates the urban block. This leads to a serene backcourt area, which in turn leads to an intimate pedestrian lane, used to access a series of 2 storey houses and cottage flats. These properties are arranged along either side of the lane, staggered in relation to the opposite side, allowing the houses an outlook beyond their immediate neighbours towards the tenements on the far side of the block.
The spaces between the blocks on each side create private courtyard gardens, providing a second aspect onto which the principle living spaces extend both visually, and physically. These courtyards have been planted with a variety of climbers, which will in time creep up the blank gables and boundary walls, enhancing the outlook and quality of these spaces.
The development provides 15 new dwellings comprising 8 dwelling flats, 4 cottage flats and 3 detached dwelling houses. All units are fully compliant with the requirements of 'Housing for Varying Needs'.
Photography by
Tom Manley
.
PROJECT: Fore Street
LOCATION: Whiteinch & Scotstoun
CLIENT: Whiteinch & Scotstoun Housing Association
ARCHITECT: Hypostyle
STRUCTURAL ENGINEER: Scott Bennett Associates
QUANTITY SURVEYOR: Armour Construction Consultants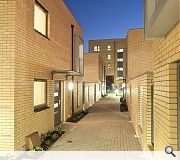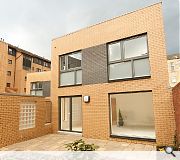 Suppliers:
Main Contractor: CCG (Scotland) Ltd
Back to Housing