Home and Office
Reverting the front elevation to a 'shopfront', adding a new pitched roof and utilising neglected space over a dropped ceiling, meant that natural light could once again be restored to a building which had remained in near darkness since its conversion to residential use in 1984. Opening up a void under this new shopfront, and moving the staircase from the centre of the plan to this void allowed light into the basement and freed up the centre of the plan for inhabitation.

At ground floor level a table becomes the centre serving both as dining table to the adjacent kitchen and meeting table to the mezzanine office. At basement level a previously dark and airless storage space becomes a living room with a wood burning stove generating heat in the centre of the plan. The narrow site allowed a pre-finished steel deck to be used as a single spanning structure.

Dave Morris Photography.
PROJECT: Home and Office
LOCATION: 1 West Annandale Street
CLIENT: Private
ARCHITECT: Tim Bayman Architecture
STRUCTURAL ENGINEER: Create Engineering LLP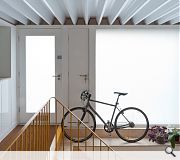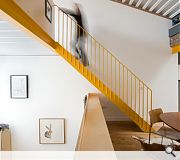 Suppliers:
Main Contractor: Inscape Joinery
Back to Other