Marlaw House
Marlaw is a new private house within Pollokshields Conservation Area, a 'garden suburb' with some of Glasgow's finest Victorian villas. The site was formerly the orchard of the Grade A listed building adjacent and remained a vacant plot bounded on three sides by mature trees in existing rear gardens with a wooded public park falling away from the western boundary.

The dwelling is a contemporary interpretation of the 'Grand Villa' with sliding panels of limestone, render and glass contained within a folding precast concrete band. To avoid 'overlooking', accommodation is arranged around private courtyard gardens that reflect the 'U' shape plan of the adjacent villa. The ground floor is terraced down to the front entrance in response to the sloping site. Steps continue from the landscaped courtyards through the family living areas, linking internal and outside spaces. The building sits at the heart of the site, set back from the public park to create a clear approach and line of security. The existing listed boundary wall line is continued from the Avenue into the main body of the building to form a covered entrance area. Light has been maximized in the double height reception area and entertainment suite with cantilevered walnut staircases and a glazed lift providing access to bedroom suites.

The master bedroom on the third floor cantilevers over the drive and opens onto a south-facing roof terrace in response to the client's requirement for sunlight & views across Pollok Park and the distant hills. As well as six bedrooms with en suites and dressing rooms, accommodation required includes a fitness suite with pool, gym, sauna and steam room, a fully glazed family living / dining area, and entertainment suite. To reduce running costs the design includes a ground source heat pump and insulation exceeding building regulation requirements.

Photography by Andrew Lee.
PROJECT: Marlaw House
LOCATION: Pollokshields, Glasgow
CLIENT: Private
ARCHITECT: Gareth Hoskins Architects
STRUCTURAL ENGINEER: David Narro Associates
SERVICES ENGINEER: Max Fordham Consulting Engineer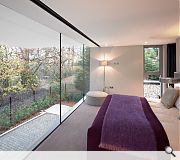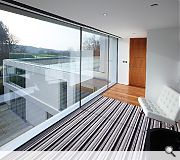 Suppliers:
Main Contractor: Thomas Johnstone
Glazing: IPIG
Stone Masons: Stone Engineering
Render: Sto Render
Pool Specialist: Alba Pools
Flooring: McKay Flooring
Back to Housing