Katie's Cottage
Roots Design Workshop were invited to suggest design options for a new extension to the south gable of the Client's existing White House cottage on the Isle of Tiree. The brief was to create an alternative living space to those in the cottage; one with more more natural light, greater views out and a contemporay language that respected the existing building. Roots chose to acknowledge the existing lean-to porch, which the Client had proudly built himself, by referencing its form and use of materials. In this way the new extension would continue the evolutionary tradition of adding to the building to suit modern circumstances, but would be done in a way which produced a coherent small building cluster.

The extension therefore takes on the form of a traditional lean-to, but is made from a series of wall and roof planes that slide past
and over one another. This creates an internal space which can be completely enclosed or completely open. The large openings permit natural light to flood into the space and offer broad views to three points of the compass, including the length of Balephetrish Bay. The walls are clad in Scottish larch and the roof in standing seam zinc. An integral series of external sliding shutters were included as part of the projects environmental strategy which allow the occupants to control the space, adapting it to the external climatic conditions.

Upon completion the Client has added a ground-mounted PV array and has proposals for timber decking. In this way, the sunroom extension quietly becomes subsumed in the latest chapter of an evolving rural building cluster.
PROJECT: Katie's Cottage
LOCATION: Kenovay, Isle of Tiree
CLIENT: Ian and Elspeth Gillies
ARCHITECT: Roots Design Workshop
STRUCTURAL ENGINEER: David Narro Associates
QUANTITY SURVEYOR: M&B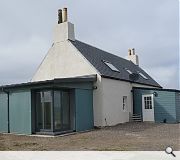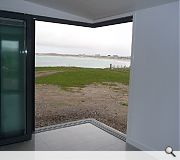 Suppliers:
Main Contractor: John MacKinnon Builders Ltd
Glazing: Sunparadise
Roofing: Rheinzinc
Back to Housing