Barkip AD Biogas Plant
Nestling in a rural setting near Beith, the Barkip Biogas plant is rapidly nearing completion, and despite the recent poor weather, the last few weeks have seen the installation of the very heart of power production at the plant; the massive primary and secondary digesters.
The Barkip Biogas plant is a very different proposition from traditional power plants, as it uses a process known as Anaerobic Digestion to produce electricity from leftover food and other organic materials. It is an incredibly natural method (very similar to how a cow digests its food) so the fuel is not burned but digested by natural microbes instead.
Images courtesy of
Keith Hunter Photography
.
PROJECT: Barkip AD Biogas Plant
LOCATION: Beith, Ayrshire
CLIENT: Zebec Biogas
ARCHITECT: Das Design
SERVICES ENGINEER: James Black Associates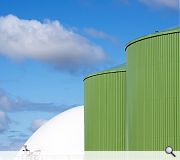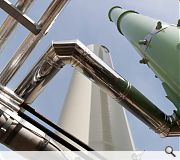 Suppliers:
Main Contractor: Luddon Construction
Back to Retail/Commercial/Industrial