HMP Perth phase 3
This was the final phase of a major development programme for
Perth Prison
and comprised various 'front of house' works to create improved facilities for visitors and staff as well as a new-build estates and stores facility behind the perimeter walls. The existing establishment consisted of buildings dating from Napoleonic times right up to present day and a sensitive approach was required in order to balance the obvious security needs with the client's ambitious aspirations.
The Scottish Prison Service wanted to create a public, civic space to welcome visitors and staff that would also preserve the heritage of the establishment. This was to be a deliberate departure from the institutional and often insensitive built environments normally associated with custodial environments. First impressions were crucial in this respect and our masterplan therefore placed an emphasis on the quality of the external environment and the visitor 'journey'. The original entrance with view towards the listed old
Gatehouse building was reinstated, and a new landscaped 'piazza' created. This area now provides an appropriate focal point to the scheme while also signalling the public entrance point to the new facility.
PROJECT: HMP Perth phase 3
LOCATION: Edinburgh Road, Perth
CLIENT: Scottish Prison Service
ARCHITECT: Morgan Sindall Professional Services
STRUCTURAL ENGINEER: Morgan Sindall Professional Services
SERVICES ENGINEER: ESD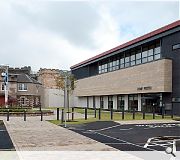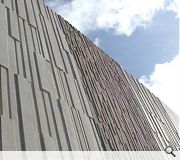 Suppliers:
Main Contractor: Morgan Sindall PLC
Back to Public