Marischal College
Marischal College in Aberdeen, one of the largest, and finest, granite buildings in the world, has been restored to the 'Silver City's' skyline once again, after a major £40 million redevelopment by Holmes Architects.
Following the successful completion of a two-year long restoration and upgrade, the soaring silver-white granite landmark has re-emerged as the new HQ for Aberdeen City Council. 1400 staff in total, from various council premises around the city, are due to move into the building over the coming months.
Having remained empty for a number of years, Aberdeen City Council made the decision to develop it as its headquarters, and appointed Holmes Architects to lead the restoration and upgrade in 2007. The first stage of the two-year construction, which came in on time and on budget, saw a lengthy process of façade retention, a strip out of most of the internals, and the reconfiguration of granite stonework. Given the 'A' listed status of the building every removed stone was accounted for and every process scrutinised.
Many of the building's unique historical features have been restored. These include: the oak panelled Senate Rooms (now the city's main civil wedding venue); the granite entrance pend; large-scale leaded glass windows; and the North West tower. The grand central collegiate style quadrangle, formerly used as a car park, has been reinstated as a key civic space by means of high quality Caithness and granite landscaping, and a central processional route from Broad Street through the reinvigorated Marischal College complex. This central route is highlighted with two rows of specialist lighting bollards and computer-controlled fountains that will operate in pattern and are lit from below with LED coloured lighting.
Internally, in order to make the building viable to any form of business, it was necessary to maximise the usable floor space. As a result two extra floors have been added by reconfiguring the floor levels and installing new roof level accommodation, clad in natural zinc that blends with the granite masonry. The roof edge details have been carefully worked out to minimise the visual impact of the new structure above the existing masonry parapets.
Photography by
Keith Hunter
PROJECT: Marischal College
LOCATION: Aberdeen
CLIENT: Aberdeen City Council
ARCHITECT: Holmes Miller
STRUCTURAL ENGINEER: Arup
QUANTITY SURVEYOR: Doig + Smith
PROJECT MANAGER: Gardiner and Theobald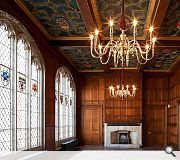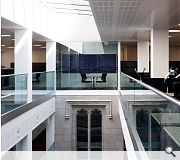 Suppliers:
Main Contractor: Sir Robert McAlpine
Stone Masons: Laing Traditional Masons
Fire Protection: Arup Fire
Fire Protection: Arup Fire
Back to Retail/Commercial/Industrial