Bridgeton Cross
Bridgeton Cross in Glasgow's East End has been revitalised to deliver physical, social and economic regeneration within wider Clyde Gateway initiatives.

An overall masterplan and specific urban realm proposals were produced to repair and reinvent this key node, based on a thorough understanding of Bridgeton's role within the wider City and the quality of its architectural heritage.

Key spaces within the area have been upgraded to enhance existing assets, highlight the quality of spatial enclosure, improve legibility and orientation, rationalise traffic and parking arrangements, and create a high quality public realm with an appropriate sense of scale.

A tree-lined boulevard linksBridgeton Cross to the world class urban park of Glasgow Green. This 'Street' is a civic space, reintroducing Bridgeton to the City through perceived as well as physical connection.
PROJECT: Bridgeton Cross
LOCATION: Bridgeton, Glasgow
CLIENT: Clyde Gateway
ARCHITECT: Austin Smith Lord
LANDSCAPE ARCHITECT: Gillespies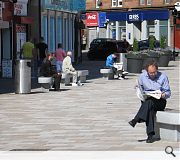 Back to Infrastructure, Urban Design and Landscape