Glasgow Royal Infirmary Intensive Care Unit
The New Intensive Care Unit at Glasgow Royal Infirmary was carried out in two phases and has provided state of the art ICU accommodation, within the existing Basil Spence designed Queen Elisabeth Building.

Phase 1 took the vacated Medical Records Department and created a 10 bed ICU, including three isolation rooms, whilst also installing much of the services plant required to enable the full 20 beds to be operated.

Phase 2 converted an adjacent ward into the second half of the facility, adding a further 10 beds with, again, three isolation rooms. An additional component of the project is a simply designed "pod" on an adjacent roof with visitor overnight and staff facilities.

The plan concentrates on clinical efficiency whilst at the same time taking advantage of the remarkable quality of light available in the existing building. There is excellent observation of bed spaces and full height glass partitions to all isolation rooms. For purposes of privacy, these are glazed with electrically operated vision control glass which goes from clear to translucent at the touch of a switch.

The facility is used as a benchmark for other ICU projects. People come from all over the country to visit it (Dr Malcolm Booth, consultant anaesthetist). The working environment provided for staff is excellent, and the convenient, efficient layout of the plan has brought real benefits. It is already saving lives was Dr Booth's comment shortly after Phase 1 opened.

Perhaps the most significant aspect of this successful project is that it is a refurbishment of part of a 1960's hospital building. Many of these buildings are being written off as unsuitable for the provision of 21st century care. Changing economic and environmental circumstances, however, indicate that this sort of project is likely to show the way forward for much healthcare provision in coming years.

Our interest in this has given rise to our being asked to lead a research project for Architecture and Design Scotland – Adapting Existing Hospitals to Face the Future.

Image taken by Dave Morris.
PROJECT: Glasgow Royal Infirmary Intensive Care Unit
LOCATION: Glasgow Royal Infirmary
CLIENT: NHS Greater Glasgow & Clyde
ARCHITECT: Reiach & Hall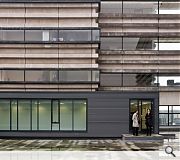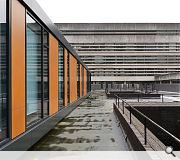 Back to Health