Inverness City Centre Streetscape
Inverness is Scotland's newest city and the centre of Highland culture. As such it is undergoing transformation through development, environmental and cultural initiatives. The £6million streetscape project is an essential part of this process which is transforming the historic core of Inverness through comprehensive public realm enhancements: traffic calming, a public art programme and new lighting.

Central objectives of the streetscape project were to improve the pedestrian environment and to facilitate safe access throughout the city centre by creating new civic spaces and re-activating spaces previously neglected or lost to traffic. In addition, the streetscape proposals improved the setting and assisted appreciation of the city centre's landmark buildings. LUC's scheme addressed a variety of urban spaces including the main Victorian shopping streets and squares, pre-Victorian lanes and closes, and part of the riverside. The design responds to the different characteristics of these spaces while also accommodating traffic management changes.

New pavements and civic spaces were created in predominantly Caithness slab and granite setts and complemented by bespoke furniture, signage, street lighting and ornamental lighting.

Land Use Consultants worked in conjunction with artist Matt Baker who is coordinating an exciting public arts programme involving many Highland artists and responding to the local culture and landscape.
PROJECT: Inverness City Centre Streetscape
LOCATION: Inverness
CLIENT: Highland Council
ARCHITECT: land Use Consultants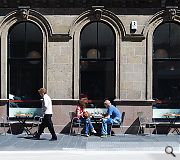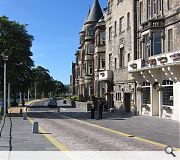 Back to Infrastructure, Urban Design and Landscape