David Walker Gardens
The David Walker Care Home is a purpose built community facility with 48 individual accommodation suites for residents. The home has a reception area, restaurant, café (open to the public), hairdressing salon, fitness room, all designed around a spacious central 'street' that has views out to the landscaped gardens. Interior design services covered all spaces achieving a subtle blend between robust practicality and contemporary style, aiming for the highest standards of facilities for a variety of users.
The 48 suites are generous, light spaces, each inclusive of a living area, kitchen and en-suite bathroom, with additional accommodation available for visitors and double suites for couples. Each has been designed for full accessibility by all types of users and within the parameters set by current care standards. Clever use of signage and memory boxes aid users with dementia. The subtle, contemporary and coordinated colour palette throughout ensures the spaces are suitable for all age groups and those visually impaired. It also lends itself to a relaxing atmosphere for staff, users and visitors alike. 'Spa-like' assisted bathrooms and spacious lounges supplement the suites with continued use of robust materials and finishes necessary for a care home.
Photography by
Neale Smith
.
PROJECT: David Walker Gardens
LOCATION: 12 McCallum Ave, Rutherglen
CLIENT: Harry Stevenson
ARCHITECT: Smith Findlay Architects
STRUCTURAL ENGINEER: Harley Haddow
SERVICES ENGINEER: South Lanarkshire Council
QUANTITY SURVEYOR: Currie and Brown
INTERIOR DESIGNER: Haa Design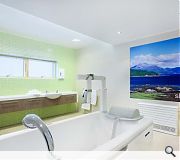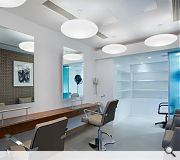 Suppliers:
Main Contractor: Ogilvie Construction Ltd
Back to Interiors and exhibitions