Girvan Community Hospital
Girvan Community Hospital, a new-build development on a greenfield site, replaces the old Davidson Cottage Hospital and Girvan Health Centre. The building, designed for NHS Ayrshire & Arran, will incorporate in-patient and out-patient activity (primary and secondary care) as well as general medical services, along with accommodation for South Ayrshire Council Social Services and a replacement ambulance station for the Scottish Ambulance Service.

Sustainablity and energy considerations informed the design process from the start leading to the provision of a biomass boiler and wind turbine.

The building sets a new standard for hospital design for the NHS in Scotland and was the product of a three-year intensive consultation and design process which involved hospital staff and community members.

PROJECT: Girvan Community Hospital
LOCATION: Girvan
CLIENT: NHS Ayrshire & Arran
ARCHITECT: Austin Smith Lord
INTERIOR DESIGNER: Vicky Gibbons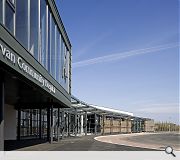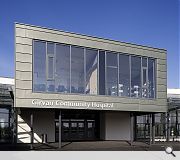 Back to Health