The Corinthian Club
One of Glasgow's most iconic and best-loved entertainment spaces re-opens this week following an eight-month multimillion-pound refurbishment led by Graven Images which has brought new glamour and intrigue to a Grade 'A' Listed building, first built 230 years ago.

The re-vamped Corinthian Club, featuring a variety of meeting and event rooms on four floors, alongside bar, dining and gaming facilities, is set to revolutionise the Glasgow social scene by providing a variety of spaces, each with its own distinct character, in which people can meet, eat, socialise and game – all in one evening if they wish, and under one roof.

Graven Images' client G1 Group has been at the leading edge of the leisure industry in Scotland for almost two decades and The Corinthian Club brings together G1 Group's experience in innovation and some of Scotland's leading artisan craftsmen, who have spent hundreds of man-hours painstakingly creating aspects of the building including a mosaic floor made of half a million tiles, over a thousand hand moulded acanthus leaves, fitting hand carved panels and restoring ornate wooded detailing, under the direction of Graven Images' Jim Hamilton.

Just over a decade later, as well as overseeing the complete renovation of the building's original features such as sculptural plasterwork and intricate gold-leaf work, Graven Images' mission has been to take a series of segregated spaces dating from different periods, with different original functions, and create new journeys throughout the building to encourage people to wander and mingle. The journey is enhanced by passing through a series of rooms which have all been given their own character and allure, from the intimate vaulted space of the Mash & Press Room at basement level to the decadent girlie 'Boutique' room on the ground floor. The use of materials as diverse as timbers cut from old whiskey barrels, brass, moulded and cast concrete, cut glass and heated and pattered corian add to the rich mix of textures and visual surprises throughout the building.

In keeping with the spirit of The Corinthian, which has always been a showcase for Scotland's leading artists and artisans, Graven Images has commissioned bespoke features for the re-vamped Corinthian including a mural of the streets that surround the Corinthian Club on the walls of one room by Sunday Herald illustrator Adrian McMurchie, and Nichol Wheatley's mosaic floor which is of a Bank of Scotland note. In addition a series of especially commissioned photographs by Vogue photographer Peter Lavery grace Charlie Parker's, The Corinthian's Piano Bar.

Architectural interventions are designed to connect and add a sense of drama and spectacle in the main spaces. A new feature staircase has been cut through to connect the Tellers Bar & Brasserie with its domed ceiling to the basement floor of the building, introducing a source of light into a cellar space which housed 'holding' cells during The Corinthian's days as a courtroom; and cantilevered balconies have been added to extend the first floor banking hall creating 'viewing galleries' and a bar space overlooking the Gaming Rooms, to draw people upstairs.

Photography by Renzo Mazzolin.
PROJECT: The Corinthian Club
LOCATION: Ingram Street, Glasgow
CLIENT: G1 Group
INTERIOR DESIGNER: Graven Images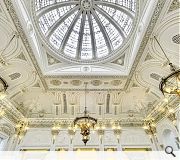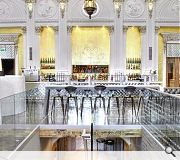 Back to Interiors and exhibitions