Advanced Forming Research Centre
The Advanced Forming Research Centre (AFRC) is a public/private sector partnership designed to drive technological improvements and profitability within the aerospace, marine and automotive industries.

Located in Inchinnan and forming part of the Client's extended campus, the AFRC will be a beacon for engineering and manufacturing excellence, housed in highly serviced, purpose built facilities and designed to meet the Client's aspirations for a building that reflects the status of a world class research centre that supports research for global industrial manufacturing companies

The building form consists of a collection of grouped volumes that reflect the three main activities that the building accommodates, namely, science laboratories, offices & workshops.

The volumes are visually collected under large mono-pitch roofs. The offices are situated at the front with the roof rising to provide space for services distribution. The research laboratories are just behind with a flat roof to house building services, screened from view but readily accessible for maintenance and replacement. At the rear the large workshops rise again with a monopitch roof housing the large pieces of specialist equipment.

This arrangement also ensures that the building, when viewed from the popular approach, is human in scale but rises in waves to the back, hinting at what is contained. The main entrance and spine are articulated separately and allow views to penetrate through to the various activities.

Internally the main accommodation groups are located within designated zones that provide the opportunity for simple and manageable future expansion but also to eliminate contamination of the numerous operational activities. The central circulation and balance area provides a spacious and flexible central hub for the building. The focus in all these areas is scientific research and the floor plan is therefore organised to encourage collaborative and open working between these spaces.

The Client set high standards for sustainability. Improved building fabric performance and passive environmental systems where the principle means of reducing the building's carbon footprint. However, low running and maintenance costs along with providing a building that promotes the health and wellbeing of its occupants and contributes positively to the local environment are all features that make this building a very successful and sustainable development.
PROJECT: Advanced Forming Research Centre
LOCATION: Inchinnan, Renfrew
CLIENT: University of Strathclyde
ARCHITECT: Hypostyle
STRUCTURAL ENGINEER: Structural Partnership
SERVICES ENGINEER: DMP Consulting Engineers
QUANTITY SURVEYOR: Currie & Brown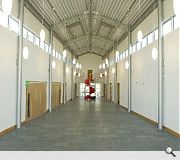 Suppliers:
Main Contractor: ROK Building Ltd
Back to Retail/Commercial/Industrial