Clubhouse at Castle Stuart Golf Links
The Clubhouse at Castle Stuart Golf Links confidently defies budgetary constraints to combine stylistic elements of the modernist
movement of the early 20th century with a contemporary palette of materials and an advanced environmental strategy.

Approach to the site and building is deliberately understated with all views carefully controlled to enhance the sense of arrival.
Quality walnut finishes internally ensure a warm welcome after the cool exterior. The psychology of compression and release heightens anticipation with wall paneling in deep tones giving way to panoramic views on all floors.

The golf course was designed to hark back to the traditional 1920's links courses that the Client considers the halcyon days of golf.
Practice on the putting green before play takes place below the striking curvaceous frontage of the clubhouse and this simple, bold and elegant form reinforces the aspirations of the golf course design philosophy.

The white exterior of the building reinforces the tradition for white-washed coastal buildings along the east coast of Scotland.
Pre-patinated copper roof cladding provides richness and detailing to contrast with the rendered walls. The exposed fins supporting the curved roof frontage represent a stylistic interpretation of the stone crown aloft the nearby Castle Stuart.

Extensive dynamic environmental modeling was carried out on the design proposals to optimize the natural performance of the building. Canopies, brise soleil and overhangs have been designed to protect from summer sun whilst allowing winter sun to penetrate.

Passive stack ventilation principles have been implemented which helps the building to regulate its own internal temperature.
Self-cleaning glass and other exterior surface finishes have been carefully specified to minimize future building maintenance.
A ground source heat pump provides heating and cooling for the building by drawing energy from and dumping heat to the surface of the earth.

The main structure of the building comprises of an in-situ polystyrene insulating concrete formwork system. By its very nature this system provides excellent insulation to the outside of the construction and this ensures thermal integrity, reduces cold bridging and simplifies control of moisture.

A simple starter pavilion was conceived which imitates the Clubhouse. This acts to orientate and connect patrons from within the
Clubhouse on arrival and departure.

The Clubhouse has exceeded the requirements of the Client's brief by providing a stylish well-appointed amenity that connects visually and philosophically with the golf course.
PROJECT: Clubhouse at Castle Stuart Golf Links
LOCATION: Inverness
CLIENT: Castle Stuart Golf Links
ARCHITECT: G1 Architects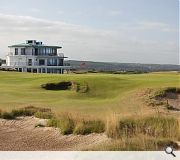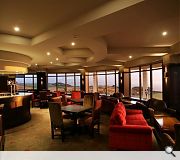 Back to Sport and Leisure