Aurora House
A new build £3.7m speculative office building providing around 2,500m2 gross of office space over 4 floors with a roof top plant area. Each floor plate is capable of subdivision into 2 separate office suites and completed with industry standard 'Category A' fit-out. Clad in a combination of black brick and sinusoidal metal cladding, ribbon windows on the north elevation provide natural ventilation to the main floor plates. Full height windows to the west overlook the Clyde. Access is via a covered entrance area to the west, with full height windows overlooking the Clyde. Car parking is provided in a courtyard to the south.

Glasgow Institute of Architects 'Best Commercial Building' Award 2009 commendation - no other commercial project received higher acclaim; Scottish Design Awards 'Best Commercial Project' Award 2010 nomination.

"Clydebank is a business location with enormous potential that has been largely overlooked by the development industry in recent years. To raise the town's profile, we have directly intervened by providing new office space at the high profile riverside location of Queens Quay, the former John Brown shipyard. Aurora House is our second office building. We are delighted with the result. The architects have a reputation as a top flight design practice and have created a bold and striking building that has many subtleties and fits well with the wider regeneration. The design quality has already received a GIA "Best Commercial Building" award recognition but most importantly, the building has a flexible and efficient layout that will enhance commercial returns. Brought in on time and budget, this latest development had no real hitches and in no short measure, is a testament to the vision and drive of the architects." Alan Robertson, Project Director, Clydebank Rebuilt.

Images taken by Paul Zanre.

PROJECT: Aurora House
LOCATION: Pavilion 2, Queen's Quay, Clydebank
CLIENT: Clydebank Rebuilt
ARCHITECT: Reiach & Hall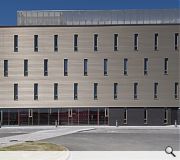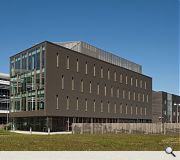 Back to Retail/Commercial/Industrial