Aberdeen Regional Sports Facility
Competition and award winning £23m major sports building sited to the north eastern coastal edge of the UK. The brief clearly stated the intention to increase community participation in sport and help elite athletes maximise their performance. Sport is about commitment and discipline, but it's also about having fun. The building takes this thought as inspiration: It is rigorously planned, but contains gestures and elements relating to sport and play. Accommodating a vast range of sports spaces, the building delivers creative responses to social, economic and technical sustainability, inclusion and opportunity; it is of local and national importance. Already pre-selected as a training base for the 2012 Olympics, the award winning Aberdeen Sports Village sets the template for all such ventures in Scotland and boasts, amongst other firsts for Scotland, the only indoor straight 135 metre-long track.

Through competitve interview and design presentation Reiach and Hall were appointed as architect and lead consultant. In a phased programme of works, operating under a Single Stage D&B contract with novation of the design team, the project brings an exemplary sports facility to Scotland. Project includes 9 court multi purpose games hall, indoor athletics training facility, full size indoor FIFA 3G 2 star football pitch, squash courts, Dojo, multi purpose games room, fitness suite, Aberdeen Institute of Sport offices, licensed cafe and changing facilities. New external FIFA 3G 2 star pitch, 2 no. seven a side pitches, changing facilities and 500 seat stand. Reiach and Hall provided brief writing, option appraisal, visualisations, model making, full architectural design service, site inspection and sports consultancy in collaboration with KSS Design Group.

RIBA Award for Architecture 2010; Aberdeen Civic Society Award 2009, given for the design of the facility and its considerable amenity value to the citizens of Aberdeen; Scottish Design Award 'Best Public Building' 2010 commendation.

Image (upper) taken by Graham Jeps.
PROJECT: Aberdeen Regional Sports Facility
LOCATION: Aberdeen
CLIENT: Sport Scotland
ARCHITECT: Reiach & Hall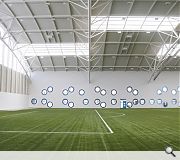 Back to Sport and Leisure