Renfrew Health and Social Work Centre
A new benchmark in bespoke therapeutic design has been set by the recently unveiled Renfrew Health and Social Work Centre by Glasgow based architects Holmes. In bringing together multiple service providers under one roof as a 'one stop shop', the flagship facility can also be viewed as an important prototype in terms of the new Scottish Futures Trust (SFT) Hub Initiative, which aims to maximise value for money by promoting local collaboration in planning and delivering public services.

The £11 million purpose built healthcare centre which uniquely combines NHS Greater Glasgow and Clyde run services with those provided by Renfrewshire Council, was designed by Holmes following their successful bid in an invited bid with Interserve Project Services Limited. Responding to the overall brief, the building adopts a light, airy non-institutional design approach to support and facilitate a range of patient care facilities - including GP practices, as well as a dental services, physiotherapy, podiatry, speech and language therapy, community nursing, and Renfrewshire's Joint Learning Disability Service and Renfrew area's Social Work team.

Essentially, the new facility, which was delivered in conjunction with specialist healthcare contractor Interserve, takes the form of three rectilinear accommodation blocks connected by a glazed entrance and triple height circulation route. The building appears from the main road as an elegant black box with rhythmic, controlled window positions breaking up and articulating the elevation with coloured glass 'fins' adding a dynamic visual element.

The two additional accommodation blocks behind the main road elevation are a continuation of the simple rectilinear box form, however these have been articulated via white rendered finishes and a controlled random appearance of windows. These have been carefully designed and modelled to maximise daylighting and ventilation to the rooms within, thereby meeting the aspirations of the passive design strategy for the building, and achieving a 'Very Good' rating under the BREEAM certification scheme.

Looking out over the newly created public square, the building's frontage has been designed to offer an appropriately welcoming and accessible face. This has been achieved via the use of locally sourced larch cladding, which provides a natural warmth to the pre-cast concrete panels and extensive coloured glazing. This arrangement of textures and materials also succeeds in breaking up the building mass. A low-pitched standing seam aluminium roof with a clipped and simple edge, maintains the simple geometric form of the building, which is seen as a powerful new presence in Renfrew's public realm and as a result a key catalyst in terms of the town's and the wider Clyde Waterfront regeneration programme.

Internally, the double storey covered entrance space is effectively a continuation of the public square leading into the building. In recognition of its important civic function, the building's interior is envisaged as a 'streetscape', featuring a triple height volume with glazed screens at either end of the building and rooflights above to flood the space with natural light.

The central 'street' space provides direct access to a vertical circulation 'core' of open accommodation, stairs, lifts and public toilets, which are clearly visible from the main entrance arrival space. These continue to open directly onto reception and waiting areas on the first and second floors. Individual departments and consultation areas, contained within the three accommodation blocks, are securely self-contained, a device that not only enables maximum patient privacy, but also allows the main streetscape in the public entrance building to remain independently open and accessible.

A uniquely close and extensive collaboration with local community groups, as well as the client and end users, ensured that the completed building nurtured a real sense of ownership within the wider community. Meetings, presentations and discussions were undertaken with the local Community Council, Disability Group, Primary and Secondary Schools and the local Reid Kerr College. In addition, internationally renowned Glasgow based artist Toby Paterson was commissioned to complete a major new site-specific artwork in the entrance of the new building following an invited competition held by the centre's 'Artworks Public Involvement Group'.
PROJECT: Renfrew Health and Social Work Centre
LOCATION: Renfrew
CLIENT: NHS Greater Glasgow and Clyde and Renfrewshire Council
ARCHITECT: Holmes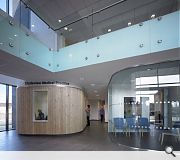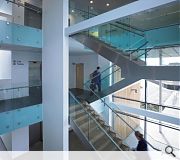 Suppliers:
Main Contractor: Interserve Project Services Ltd
Back to Health