Obstetrics, Neonatal and Fetal Medicine
A new 4 storey extension was constructed adjacent to the existing maternity block as part of the first stage of the £750million redevelopment of the Southern General Hospital site in Glasgow. In total, 5800 sq m of additional floor space was added.

A high quality of material was used throughout, including; Sandstone ashlar, terracotta rainscreen tiles and anodised aluminium tiles together with planar glazing, powder coated aluminium louvres and floating stainless steel mesh panels (Brise Soleil). The use of a contemporary and durable palette of materials helped enhance Patient and Staff experience of the building.

The Project had a 73 week contract period and was completed on programme and within budget.

Ground floor accommodation comprises 12no. delivery rooms (inc 2no. with birthing pool facilities), 2no. operating theatres and recovery rooms.
The 1st floor comprises the NICU (Neonatal Intensive Care Unit) consisting of 34 cot spaces in single and multi-bed configurations.
The 2nd floor comprises the SCBU (Special Care Baby Unit) providing 26 cot spaces arranged over single, double and multi bed rooms, Additional facilities including mother and baby rooms and staff office accommodation.

Patient and Staff conditions have been improved by maximising areas of glazing to provide ample natural light while locating glazing in such a way as to maintain privacy. Acoustic partitions, ceilings and floors where employed throughout which have been a welcome addition by patients and staff. Each floor has a defined colour scheme therefore enhancing wayfinding for patients. Warm white walls, white ceilings, natural coloured floors, timber doors and panelling and internal glass screens evoke a sense of calm and serenity throughout the hospital.

PROJECT: Obstetrics, Neonatal and Fetal Medicine
LOCATION: 1345, Govan Rd, Glasgow
CLIENT: NHS Glasgow
ARCHITECT: Hypostyle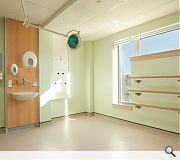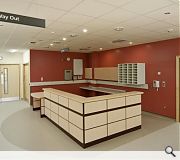 Back to Health