Arts Centre, Howden Park
In 2005 Nicoll Russell Studios were commissioned by West Lothian Council to redevelop the Howden Park Centre. Situated largely within mature parkland in Livingston, the building had previously evolved in piecemeal fashion from a converted coach house into a popular but inherently limited arts centre. Increasingly intensive use by both professional and community groups highlighted the need for the building to expand considerably, become more flexible, and resolve a range of technical, organisational and accessibility issues to meet future needs in a fit for purpose environment.

The brief required the creation of a new 300 seat auditorium, stage and technical facilities, flexible dressing and changing accommodation, a new home for Firefly Youth Theatre, "black box"rehearsal space, dance and multi-purpose studios, improved art and pottery rooms, and expanded and improved catering operations, offices, and support facilities. The redeveloped building had to re-engage with both its setting and the local community.

The design has been shaped to give the centre a greater presence within its setting. A core of existing accommodation has been refurbished and augmented with a major new extension. The auditorium roof is raised to announce its location from afar and provides a "centre of gravity" to the assembly of new and existing forms. The primary entrance has been relocated to the North in recognition of public transport links from the adjacent hospital site, and to address existing buildings across a redefined car parking and drop-off area.

The Centre's social heart (foyer, bistro and bar) is revealed through glazing facing the captured landscape to the east, with the curved timber-clad auditorium anchoring the "flow" of this space and signalling the theatre within. The Youth Theatre has its own "snug" area within the foyer, designed in conjunction with both an artist and the members themselves, and exemplifying the collaborative, community focussed approach to the entire project.
PROJECT: Arts Centre, Howden Park
LOCATION: Livingston, West Lothian
CLIENT: West Lothian Council
ARCHITECT: Nicoll Russell Studios
STRUCTURAL ENGINEER: Arup Scotland
SERVICES ENGINEER: Arup Scotland
QUANTITY SURVEYOR: West Lothian Council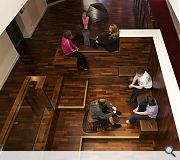 Suppliers:
Main Contractor: Interserve Project Services Ltd
Back to Public