Hotel Missoni
Located on the Royal Mile, an existing 1960s Lothian Region Council Headquarters building has been demolished to leave two A-listed buildings which front onto the Lawnmarket, as well as associated closes, courtyard and part of Victoria Terrace to make way for an elegant new mixed use building including a hotel, a new HBOS bank branch and retail space.

The buildings sits on the pivot point of three striking different characters of Edinburgh's Old Town - the Medieval Lawnmarket on the Royal Mile, the curving Bohemian street of Victoria Street and Victoria Terrace and the broad Victorian Improvement Street of George IV Bridge. This project in Edinburgh demonstrates our commitment to the urban fabric and public realm, with a vibrant and complex building, whose primary function is to allow the nearby landmark historic buildings - such as St Giles Cathedral, the Hub, and the old Parliament buildings - to shine.

It strikes a balance between being assertive and confident, and at the same time being respectful of its context. We developed a philosophy of "unity through diversity" with different approaches to the building faces - an analogy of the "end grain" of precious Royal Mile frontages with vertical emphasis and a delightful timber jetted segue piece; the three "palazzi" frontages of stone tracery responding to the Victorian public buildings marching down George IV Bridge; and a new, sinuous arcaded entrance to Victoria Terrace.

Inspired by the tradition of hard-won public space carved out of the urban frontages (as seen in nearby Gladstone's Land on the Lawnmarket), new arcades are introduced to establish entrances for several additional uses brought to the site. The re-animation of the street with many uses - shops, cafe, hotel entrance, conference and health facilities, as well as a branch of a bank - is critical to the success of the design, and this extends to reinstating the historic vennels though and courtyards within the site, where a new glass enclosed restaurant is located.

The building develops the long term interest of the practice - how to use the dynamism of an institution to bring back richness of use, activity and movement, that characterised traditional environments. The complex rhythmic language of the building is inspired by the distinctive Missoni stripes, and a playful approach to pattern-making, woven into the urban fabric - when seen from the Royal Mile, the angled panels in the George IV facade display their timber faces; when seen from the other side, only stone, with flashes of silver is visible.
PROJECT: Hotel Missoni
LOCATION: Royal Mile, Edinburgh
CLIENT: Kilmartin Property Group and HBOS
ARCHITECT: Allan Murray Architects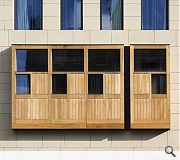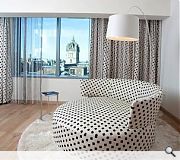 Back to Sport and Leisure