residential Care Home for Leonard Cheshire Disability
Residential care home for Leonard Cheshire Disability providing 4 self contained one bedroom apartments and 6 respite rooms for users with severe mental and physical disabilities. Accommodation also included communal lounge and kitchen/ dining, assisted bathroom, laundry, staff facilities, office and staff apartment.

Due to their physical disabilities, the buildings residents may spend the majority of their time inside the building. We therefore considered it was essential that the building should be first and foremost a calm and simple, as generous as we could afford to build with access to as much daylight and fresh air as possible.

The building has been insulated beyond the requirements of the building regulations to conserve as much heat as possible. The plan form of the building is compact to minimise the extent of external wall where most of the heat lost occurs. The stairs at each end of the building act as a buffer to the elements.

High performance, double glazed timber windows from renewable sources have been selected and the use of energy intensive, non renewable materials such as steel or aluminium has been minimised.

The large windows maximise the use of natural daylight and ventilation and reduce the requirement for artificial lighting. The large areas of south facing glazing also capture passive heat from the sun.

The building has a 'heavy' construction; solid masonry walls and concrete floors absorb solar heat gain and then release this energy slowly when the temperature drops. This improves the comfort factor of the environment compared to a 'light' construction such as a timber frame which heats up and cools down very quickly and is subject to dramatic temperature fluctuations.
A central, high efficiency heating system has been used for the whole building. Underfloor heating was considered but changed in favour of a low temperature radiator system due to concerns that the residents, if immobile may experience physiological problems.

Images taken by Peter Guthrie.
PROJECT: residential Care Home for Leonard Cheshire Disability
LOCATION: Bingham Drive, Edinburgh
CLIENT: Port of Leith Housing Association
ARCHITECT: Ian Springford Architects
STRUCTURAL ENGINEER: Faber Maunsell
SERVICES ENGINEER: TTS Consultant Engineers
QUANTITY SURVEYOR: MacDonald Alexander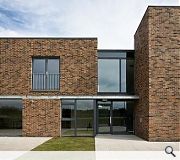 Suppliers:
Main Contractor: Hart Builders
Back to Health