Apex Waterloo Place Hotel

The brief was to sympathetically convert a Grade A listed Georgian building with a 70's extension to the rear, fully refurbishing the exterior and interior into a 187 bed 4-star hotel, incorporating a new ozone pool, spa and gym.
Although much altered through the years, many of the period features and detailing remained in the Georgian sections; in cornices, fireplaces and stairwells. Historic Scotland was keen that we retain and refurbish these details, breathing new life and giving them relevance within a contemporary setting.
The interior concept related to the contrasting characters of historic building and modern extension, whilst also working within the Apex portfolio brand. Particular attention was paid to selecting materials, which wherever possible, were both durable and sustainable. A decision was made early on to use low energy and LED lighting throughout to reduce energy consumption.
The design response was both functional and aesthetic, clearly defining the threshold between the old and new sections by contrasting the light provided by high windows and ceilings in Georgian areas, with the deliberately darkened circulation routes within the low level extension.
Room numbers were maximised, using a standardised repeated floor plan across the 10-storey extension, providing economy of scale. In comparison, a direct and sympathetic response was given to the historic sections, creating unique bedroom experiences, locating corporate facilities within existing panelled reception rooms and fully restoring the Georgian proportions of the public areas, emphasising their historic grandeur, culminating in a dramatic light sculpture in the lounge which defined this as a focal point and hub of the building.
Interior colours and textures were taken through into feature graphics, particularly the entrance screen and wall graphics, down to patterns and colours used on menus and business cards. The result is a truly unified interior and graphics brand experience for guests.
PROJECT: Apex Waterloo Place Hotel
LOCATION: 23-27 Waterloo Place, Edinburgh
CLIENT: Apex Hotels Ltd
ARCHITECT: Ian Springford Architects
STRUCTURAL ENGINEER: Harley Haddow Partnership
SERVICES ENGINEER: RSP Consulting Ltd
QUANTITY SURVEYOR: Thomas & Adamson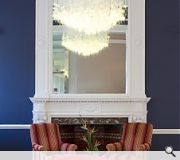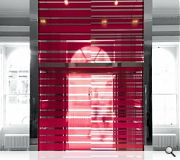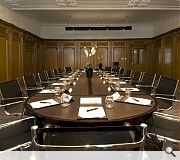 Suppliers:
Main Contractor: Bovis Lend Lease
Back to Interiors and exhibitions