Altnagelvin Area Hospital - New South Wing
HLM Architects (Glasgow Office) in association with Hall Black Douglas Architects (Local Belfast Practice) were appointed in 2000 to masterplan the £150 million redevelopment of the 1960s Altnagelvin Area Hospital situated in Londonderry.

Following a series of enabling works contracts, the New South Wing is the first phase of new build clinical accommodation which provides replacement facilities for some key services, including maternity and neo-natal, oncology, adult acute inpatients and rehabilitation, as well as providing a new patient records department and staff changing facilities.

The low rise buildings of the new South Wing have been designed as an architectural "plinth" to the existing ward tower around a series of landscaped courtyards to complement and enhance the modernist aesthetic of the original buildings whilst maintaining and maximizing the fine views from the new and existing wards southward to the Sperrin Hills and surrounding open landscape. The brief necessitated that the design team establish a robust external vocabulary in terms of massing and elevational treatment through the creation of an exemplar design which would be followed throughout the overall project.

The external façade is integrated with the Building Management System which, along with the provision of external brise soleil, helps to maintain a comfortable internal environment by means of natural ventilation and solar control.

Internally, the design of the public circulation areas have been given particular attention in terms of the introduction of focal points, break out areas and picture windows to provide amenity and vistas to the outside from internal corridors.

A comprehensive arts strategy has been fully integrated with design of the building resulting in a number of major artworks being located at key points internally and externally and a series of art boxes and feature walls being incorporated throughout the building for use as part of a dynamic ongoing healing arts programme.

The building has been successfully procured using the innovative Performance Related Partnering route, which has resulted in a sustainable and affordable healthcare facility of high design quality. Within the framework of an agreed partnering charter, the Design Team, led by HLM Architects, has worked in close partnership with the client and construction teams to create a benchmark for the design and procurement of future healthcare buildings in Northern Ireland and beyond.

PROJECT: Altnagelvin Area Hospital - New South Wing
LOCATION: Londonderry, Northern Ireland
CLIENT: Western Health & Social Care Trust
ARCHITECT: HLM Architects in association with HBD
STRUCTURAL ENGINEER: Doran Consulting
SERVICES ENGINEER: Arup
QUANTITY SURVEYOR: WH Stephens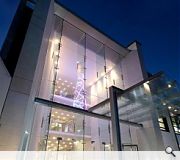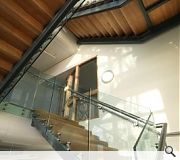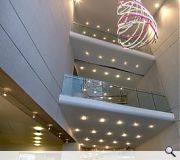 Suppliers:
Main Contractor: Farrans Construction
Back to Health